The Goal Was Never to Capture bin Laden
The Navy SEALs knew their mission was to kill the al Qaeda leader, not take him alive
The Navy SEALs knew their mission was to kill the al Qaeda leader, not take him alive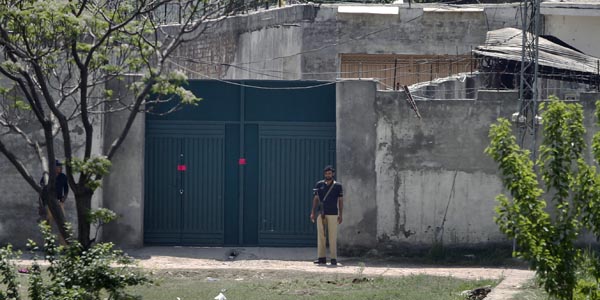 In the weeks before President Obama ordered Navy SEALs into Pakistan in pursuit of Osama bin Laden, administration officials weighed using American warplanes to obliterate the terror mastermind's fortified compound from the sky or sending commandos on a high-risk mission to assault the structure from the ground.
But there's one option the administration appears to have never seriously considered: taking bin Laden alive.
(RELATED: 5 Things White House Got Wrong on Raid)
In an important new detail about Sunday's raid, the White House disclosed on Tuesday that bin Laden was unarmed when the SEALs shot him in the head and chest, killing him instantly. The administration said that bin Laden resisted capture, but hasn't suggested in any of its public comments that the SEALs were in any immediate danger when they opened fire on him during their assault on his compound in an affluent Islamabad suburb of Abbottabad.
The SEALs' decision to fatally shoot bin Laden -- even though he didn't have a weapon - wasn't an accident. The administration had made clear to the military's clandestine Joint Special Operations Command that it wanted bin Laden dead, according to a senior U.S. official with knowledge of the discussions. A high-ranking military officer briefed on the assault said the SEALs knew their mission was not to take him alive.
---
MORE FROM NATIONAL JOURNAL:
MAP: World Leaders React to Death of Osama bin Laden
The Secret Team That Killed bin Laden
FBI on War Footing
---
Publicly, the White House insists it was prepared to capture bin Laden if he tried to surrender, a possibility senior officials described as remote. John Brennan, the administration's top counterterrorism official, told reporters on Monday if "we had the opportunity to take him alive, we would have done that." A senior intelligence official echoed that sentiment in an interview on Tuesday, telling National Journal that if bin Laden "had indicated surrender, he would have been captured."
But bin Laden didn't appear to have been given a chance to surrender himself to the SEALs.
"To be frank, I don't think he had a lot of time to say anything," CIA Director Leon Panetta said in an interview airing on PBS NewsHour.
U.S. officials have described a chaotic scene inside the sprawling compound as the SEALs fought running gun battles with militants. When commandos reached the room were bin Laden had been sleeping, they made a quick decision to kill him.
"It was a firefight going up that compound. By the time they got to the third floor and found bin Laden, I think this was all split-second action on the part of the SEALs," Panetta said in the PBS interview.
The administration had both practical and moral reasons for wanting the al-Qaida leader dead. Few individuals have been responsible for the deaths of more American civilians than bin Laden, who had orchestrated the September 11 attacks as well as a variety of smaller deadly strikes against American targets. For many at the Pentagon and the Central Intelligence Agency who had spent nearly a decade hunting bin Laden, killing the militant was a necessary and justified act of vengeance.
Capturing bin Laden alive would have also presented the administration with an array of nettlesome legal and political challenges. The White House would have needed to decide where to imprison him, how harshly to interrogate him about potential new attacks, and how - and when - to put him on trial for the killings of the thousands of Americans who died at his direction.
A bin Laden trial, even before a military tribunal at Guantanamo Bay, would have attracted enormous media attention, potentially giving the terror mastermind a high-profile platform for spreading his extremist views, and also could have inspired more terrorist attacks. Given the political firestorm that erupted over Attorney General Eric Holder's aborted plan to try 9/11 mastermind Khalid Sheikh Muhammed in New York City, the administration was also wary of the congressional scrutiny that would have surrounded every decision it made about bin Laden's legal fate.
The decision to kill bin Laden outright was the clearest illustration to date of a little-noticed aspect of the Obama administration's counterterror policy. The Bush administration captured thousands of suspected militants and sent them to detention camps in Afghanistan, Iraq, and Guantanamo Bay. The Obama administration, by contrast, has focused on eliminating individual terrorists rather than attempting to take them alive.
In the fall of 2009, for instance, JSOC and the CIA located one of the administration's most-wanted men, Saleh Ali Saleh Nabhan, the leader of the al-Qaida affiliate in East Africa, as he drove though Somalia. Nabhan was suspected of orchestrating a string of deadly attacks in Kenya in 2002 as well as being involved in the 1998 bombings of the American embassies in Kenya and Tanzania, attacks that left 250 dead. Military commanders told Obama administration officials that commandos could try to take Nabhan alive or kill him from the air. The White House told JSOC they wanted Nabhan dead. A short time later, U.S. helicopters carrying SEAL commandos fired missiles into Nabhan's car, killing him instantly.
The White House has also sharply escalated its use of armed drones inside Pakistan, where the robotic planes are launching record numbers of missile strikes on suspected militants in the country's lawless tribal areas. The number of drone attacks has soared from 35 in 2008, the year before Obama's inauguration, to 117 last year. Bill Roggio of Long War Journal, a Web site that tracks the attacks, estimates that missiles fired by American drones have killed nearly 1,500 people inside Pakistan, mostly in the two years that Obama has overseen the undeclared war there. Few, if any, senior militants have been arrested by CIA operatives or U.S. commandos over that same time period.
More recently, the Obama administration secretly authorized the CIA and its partners from the military's Special Operations community to kill Anwar al-Awlaki, an influential radical cleric - and American citizen - thought to be living somewhere in Yemen. Working with the American Civil Liberties Union, Awlaki's parents sued the administration, challenging the legality of the U.S. government marking a citizen for death without trial.
However, a federal judge dismissed the suit late last year, and the kill order remains in effect. Awlaki is still at large.
Bin Laden's killing was criticized by several European and United Nations officials on Tuesday, with critics of the operation seizing on the fact that the militant was unarmed and could have theoretically been safely taken into custody. Former West German Chancellor Helmut Schmidt told German TV that the U.S. raid was "quite clearly a violation of international law" and that bin Laden should have been detained and put on trial.
Attorney General Holder defended the decision to kill bin Laden although he didn't pose an immediate threat to the Navy SEALs, telling a House panel on Tuesday that the assault had been "lawful, legitimate and appropriate in every way."
Image credit: Anjum Naveed/AP
Drop-down image credit: AP