The Fall of the GOP's Turnout Operation
Republicans once wielded a feared election machine. Nowadays, it's underfunded, out-of-date, and leaves the party vulnerable to Democrats in key races in 2012.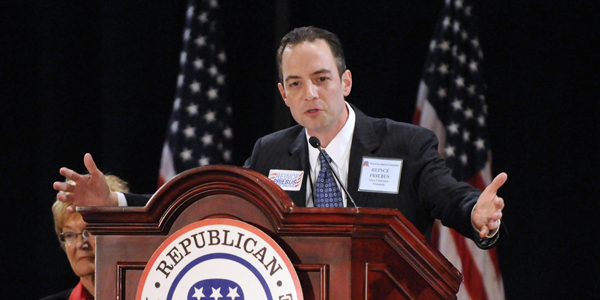 Republican National Committee Chairman Reince Priebus
DALLAS -- Austerity isn't only a phenomenon for cash-strapped European governments. Saving money is the new "it" thing for the Republican National Committee as well. After two years of profligate spending and shrinking revenues landed the party deep in debt, Republicans are doing everything in their power to stanch the tide of red ink and return the RNC to a strong financial footing.
But the GOP also faces a problem only rarely acknowledged among top party strategists: The Republican Party's turnout operations, which can suck up millions in funds during the critical last days of a campaign, are much weaker than those of their Democratic counterparts. And without a serious investment soon, the turnout gap threatens to undermine Republican efforts to win key contests in the 2012 election cycle.
Thanks to rules that allow voters to cast ballots early, or by absentee, the new reality is that turning out voters is a monthlong process. Republicans once wielded a vaunted 72-hour program, which identified voters most likely to cast ballots for Republicans and whipped them into heading to the polls. Now, the parties must begin turning out voters weeks in advance of Election Day. At the moment, Democrats are much better equipped to get their voters to the polls over that stretch than are Republicans.
---
MORE FROM NATIONAL JOURNAL:
Obama Walks Tightrope With Middle East Address
Strauss-Kahn Resigns
A Stranger in N.H., Huntsman Hits the Campaign Trail
---
Though Republican operatives are loath to publicly acknowledge the shortcoming, it is common knowledge among senior strategists that turnout operations are underfunded and out of date. In a recent interview, new RNC Chairman Reince Priebus said he wanted his legacy to be a focus on identifying those who cast absentee ballots and implementing a program to make sure Republicans return those ballots on time.
"I believe that the 72-hour task force means the last month. My idea of a 72-hour [get-out-the-vote] effort includes the entire month of October and November," Priebus said. "You cannot have a get-out-the-vote effort anymore in the last 72 hours, especially with absentee ballots and early voting going on around this country."
Already, Republicans have felt the negative impact of an underfunded turnout operation. In Nevada in 2010, for example, ballots cast during early voting and by absentee made up more than 60 percent of the total votes cast. By identifying those who turned out early, and by turning out more of their own voters, Senate Majority Leader Harry Reid's campaign was able to take what it projected was a four-point lead into Election Day, campaign manager Brandon Hall said. Republicans pointed to a Senate race in Washington and gubernatorial races in Minnesota and Connecticut as a few more examples in which Democratic turnout operations bested their Republican counterparts and made a difference in the outcomes.
"If we do not have a highly functioning Republican National Committee, our opportunities are more limited in 2012 than they need to be," Texas Gov. Rick Perry told RNC members here on Tuesday. Perry is chairman of the Republican Governors Association, which had to fund get-out-the-vote efforts in 2010 when the RNC didn't have the financial resources to step in. "We can be successful if the Republican National Committee is successful," he said.
Still, the money required to invest in advanced turnout operations is not likely to come from the RNC itself, the traditional architects of the party's turnout apparatus. The RNC remains mired in debt--nearly $20 million as of the end of March, according to filings with the Federal Election Commission last month.
Elected in January, Priebus set about on an ambitious austerity program; he cut about a third of the committee's workforce, slashed expenses and canceled as many contracts as possible, all in the name of saving the party money. Traveling to Dallas for an annual meeting of state party chairmen, Priebus flew coach on US Airways, while predecessors spent more lavishly on travel.
Priebus has said publicly he believes he can get the party's debt below $5 million by the end of the year. Recently, he's a bit more optimistic: "I've been pretty confident that we're going to get ourselves out of debt by the end of the year, but I'd rather under-promise," he said.
But he'll have other bills coming due. Sometime next spring, Republicans will have settled on a presidential nominee. The RNC is allowed to give coordinated funds directly to their eventual nominee, robbing another $20 million or more from their treasury. State affiliates, too, expect big transfers from the national party to fund critical election operations; if Priebus does not acquiesce to at least some demands, he won't be reelected to another term.
Instead, watch outside organizations begin to play a much bigger role in operations that have traditionally been reserved for the official party apparatus. Financial realities will demand that American Crossroads, the American Action Network, and others spend big bucks on getting voters to the polls next year.
"The RNC needs to focus in on what we do best, which is provide the boots on the ground and the resources on the ground to connect the dots between the candidates and the voters," Priebus said. "Campaigns across the country are won with an army, not necessarily an air force."
Despite a deep austerity program, Priebus and Republicans around the country are going to need to call up the reserves next year.
This article appeared in the Thursday, May 19, 2011 edition of National Journal Daily.
Image credit: Jonathan Ernst/Reuters
Drop-down image credit: Reuters