The Campus Carry Movement Stutter-Steps Across America
This year alone an astonishing 20 states have seen "guns on campus" bills introduced. Seven have failed.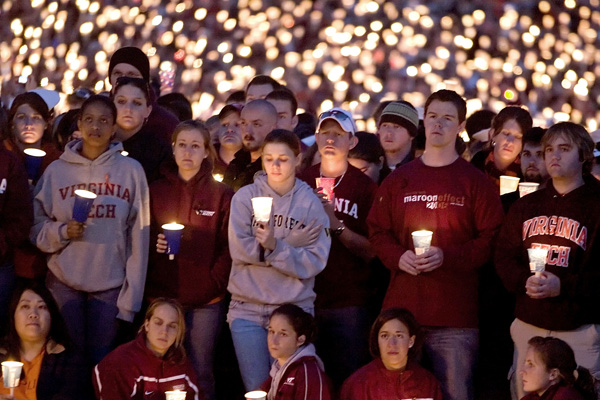 Last October, an email popped into my inbox from Mike Stollenwerk, co-founder of gun rights networking hub OpenCarry.org, which boasts the motto, "A right un-exercised is a right lost." He was responding to a question I had about the possible re-tabling of a bill in the Texas legislature which would, if passed, allow students to carry handguns with them to college.
At the time, only Utah allowed the carrying of concealed weapons into the classrooms of public universities, while Colorado left it up to the colleges themselves to decide. Stollenwerk wrote: "My bet is that there are a fair number of college students and faculty members across America who, after the Virginia Tech murders, have decided to regularly carry loaded concealed handguns to class even when it violates college administrative rules ... I hope campus carry is legalized in Texas soon."
But faculty members weren't as keen on their students packing heat during their lessons as Stollenwerk thought they might be. Last month, just as state senators were ready to send a bill to allow handguns on campus to a final vote, University of Texas (UT) Chancellor Francisco Cigarroa wrote a public letter to legislators saying the gun bill was a bad idea. And he had the public support of both the UT Faculty Counsel and Texas A&M University Faculty Senate. The result: the bill stalled in the Texas senate, lacking the two-thirds of votes needed to get it on to the floor.
But Sen. Jeff Wentworth, the Texas Republican who authored the bill, was persistent, and yesterday he managed to get it tacked on to a piece of education finance reform legislation which passed the state senate.
If the bill in Texas becomes law, some professors there have said they plan to include a clause in syllabi stipulating that students are not be permitted to carry guns into their classroom -- and then simply refuse to teach classes where students don't assent.
Campus-carry legislation was also on the move this spring in Arizona. Three weeks ago, the state's conservative governor Jan Brewer vetoed a gun rights bill that had already made its way successfully through both houses, saying it was "poorly written" and that allowing guns to be carried in 'public rights of way' could have included K-12 schools -- something prohibited under state and federal law.
But the hiccup in Arizona hasn't stopped the movement to allow guns on campus gather momentum elsewhere. This year alone an astonishing 20 states have seen 'guns on campus' bills introduced (so far seven have failed).
The non-profit Brady Campaign to Prevent Gun Violence points out that since the 2007 Virginia Tech massacre, campus-carry legislation has been stymied 51 times in 27 states. But they shouldn't sit back and breathe a sigh of relief just yet. In Arizona, Brewer has signaled that she'd consider future campus-carry legislation if it addressed her concerns.
The gun rights lobby is powerful -- and persistent. And here's a peculiar anomaly: that movement seems emboldened by the perception that President Obama is a "committed anti-gunner," as the Gun Owners of America organization said during his initial run for president. This perceptions persists despite the fact that the Brady Campaign issued a report card last year failing him on all of the issues it considered important -- including closing gun show loopholes and curbing trafficking.
In fact, since taking office, Obama has signed a law permitting guns to be taken into national parks and wildlife refuges and another allowing people to check guns as baggage on Amtrak. During a campaign speech in Virginia back in 2008 he declared: "I will not take your shotgun away. I will not take your rifle away. I won't take your handgun away." If anything, until now the Obama administration's hands-off attitude toward gun control has paved the way for the campus-carry movement to flourish, while the misperception that he wants to take people's guns away has been used as an effective tool to bolster support for Second Amendment groups.
The Brady Campaign's Brian Malte told me that since his organization issued Obama an "F" on his report card for his first year in office, the president has made some steps in the right direction: a few weeks ago he wrote an op-ed piece for the Arizona Star newspaper in which he emphasized the need for failsafe background checks for gun owners. "An unbalanced man shouldn't be able to buy a gun so easily," he wrote. And he nominated Andrew Traver to head up the Bureau of Alcohol, Tobacco, Firearms and Explosives -- a man who has been outspoken on gangs and weapon control, and whose nomination the NRA opposes.
But none of this is likely to have any effect on the lobby to push campus-carry legislation at the state level. And I don't like the idea of anyone carrying a gun in public, let alone a 21-year-old student fueled by testosterone and alcohol. When I was at university in the mid-'90s, we drank far more than was good for us. Add guns to the mix and it's a volatile concoction. When you think of it like that: giving guns to young students largely interested in sex and booze, I'd wager it seems less of a genius idea.
Angela Stroud, a PhD candidate at the University of Texas, has spent the last two years researching the social meanings of concealed handgun licensing. She's conducted over 40 interviews and even took the handgun license test herself so she'd be more informed. She told me there are those opposed to guns who consider 'what's best for society', and those who are pro-second amendment for whom the 'greater good' does not form part of their argument. "There is a major privileging of the individual," she said. "And it's a powerful experience to become enmeshed in this worldview. There's a fear. Instead of saying that incidents like Virginia Tech rarely happen, they say that even a one-in-a-million chance of being murdered is a frightening thing. They see two major threats -- one is a criminal who wants to kill you; the other is a government that wants to control you."
For me, the argument that you could prevent another Virginia Tech with more guns is fatuous. Guns are designed for one thing only -- and the more of them there are, the greater the chance of someone getting hurt. Texas Senator Rodney Ellis issued a statement saying the bill would do nothing to improve the safety of students on campus in his state and could, in fact, make dangerous situations more deadly by creating confusion for law enforcement. "We don't need to incentivize campus Rambos," he said.
I couldn't agree more.
Image credit: Chris Keane, Reuters
Drop-down image credit: Reuters