The 2012 Race Gets Less Fun
With Donald Trump and Mike Huckabee declining to run, the presidential campaign turns to real issues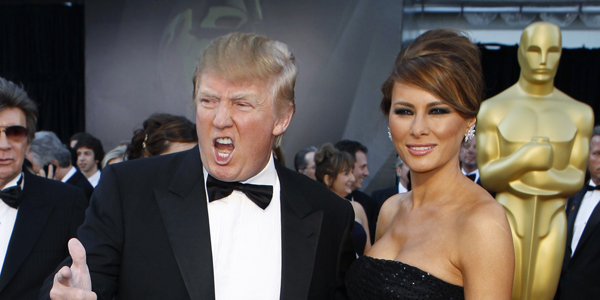 The entertainment value of the 2012 presidential campaign is in serious jeopardy.
Donald Trump, owed a public debt for his significant contributions to the reality-television and beauty-pageant genres, announced on Monday that he will not run for president. The news came just a day and a half after Mike Huckabee--fresh off a nationally televised jam session with rocker Ted Nugent--also ruled out a presidential bid.
What's a voter looking for a good time to do?
---
MORE FROM NATIONAL JOURNAL:
Tensions Rise Over Debt Limit
Huckabee's Pop-Culture Plunge
Why Are They Leaving? 2012 Senate Retirees
---
The Republican Party is left with a handful of charismatically challenged candidates:
PowerPoint-inclined Mitt Romney (who seemed to acknowledge a deficit in his campaign's fun quotient on Monday by tapping supermodel Cindy Crawford to star in a video demonstrating his fundraising software);
Tim Pawlenty, rarely amusing except when his rock-em-sock-em campaign videos are parodied by Stephen Colbert;
Newt Gingrich, who only unintentionally elicited guffaws when he blamed his past infidelity on a case of extreme patriotism.
Potentially waiting in the wings of the 2012 campaign: Indiana Gov. Mitch Daniels, whose idea of fun is an Excel spreadsheet and a budget deficit.
With the absence of publicity stuntmen like Trump and Huckabee from the presidential race, the campaign could be forced to focus on public policy.
Trump had stimulated vigorous public debate about little besides Obama's birth certificate. Huckabee was the only candidate willing to talk candidly about weight gain. The former Arkansas governor had real-life executive experience, but of late he seemed more focused on touting his lucrative television, radio, and book deals.
As Republican strategist John Feehery noted on his blog on Monday, Huckabee's charm and stage presence--not his policy initiatives--were the key to his appeal.
"Humor works: Huckabee was funny, and his self-deprecating humor worked with a bunch of people including the media,'' Feehery wrote. "He had absolutely no money in the last campaign, but because he got the attention of bookers and producers because of his easy television presence, he was able to stay in the race until almost the very end.''
More recently, Trump and Huckabee exploited curiosity about their White House ambitions to juice the ratings of their TV shows. Their recent adventures in self-promotion served as excellent distractions from mopey talk about the debt ceiling. The Pew Center's Project for Excellence in Journalism crowned Trump the early winner of the "media primary." The celebrity businessman was the second-leading newsmaker behind President Obama, figuring prominently in 4 percent of stories during the week of April 18.
Trump was also named as the most visible possible Republican candidate in an April study by the Pew Research Center for the People and the Press. Without the real-estate magnate sucking so much oxygen out of the campaign, Gingrich's energy plan and Romney's tax policy may actually get public hearings.
"He was distracting from issues that are front and center for the American people,'' said Michael Franc, vice president of government studies for the Heritage Foundation. "To have him not in the race makes it a lot easier for the party's field to concentrate and debate and come up with a better set of solutions.''
The only potential presidential candidates offering glimmers of light entertainment are Jon Huntsman, who briefly rebelled in his youth to join a rock band, and Sarah Palin, another veteran of reality TV. Or perhaps the high-spirited Michele Bachmann, with some on-air training in the wake of her awkwardly staged response to the State of the Union.
In his statement ruling out a presidential campaign, Trump said: "I look forward to supporting the candidate who is the most qualified to help us tackle our country's most important issues.'' Yet in contrast to the jockeying that immediately followed Huckabee's announcement by onetime rivals seeking the Baptist minister's blessing, Trump's hint got no takers.
Maybe it's a sign that the silly season is over.