Thanks to Medicare, Democrats Are Winning the Message War
After losing the bumper-sticker wars for years, the Blue Team has found an easy way to attack Republicans for a change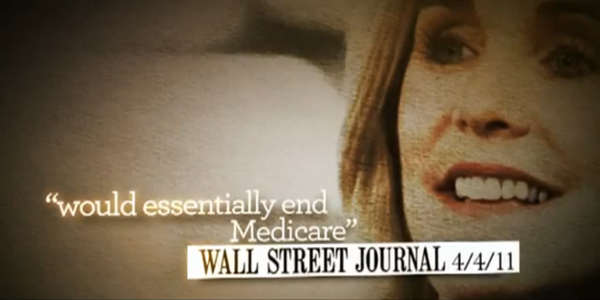 In the past few election cycles, Democrats have been victims of their own complicated proposals for social change, and Republicans have been pros at death by soundbite.
Legislation giving illegal immigrants a pathway to citizenship was torpedoed by the GOP as "amnesty.'' Health care reforms to cover the uninsured were pilloried as a "government takeover'' or "Obamacare.'' Ending tax cuts begun under then-President George W. Bush amounted to "tax hikes in a recession"--even though Democrats had targeted only the wealthy.
---
MORE FROM NATIONAL JOURNAL:
PICTURES: Top 10 Monuments in D.C.
Palin to Launch Bus Tour
The Wish List: Republicans Not in the Presidential Scrum
---
But in the current debate over Medicare reform, the bumper-sticker slogan belongs to the Democratic Party, not the GOP. The sweeping changes proposed by Rep. Paul Ryan, R-Wis., will "abolish Medicare,'' Democrats charge. Now, it's the Republicans who are scrambling for a way to justify a massive legislative overhaul in 30 easy-to-understand seconds.
Cue the shrieking.
"It's always easier to attack a proposal that someone else puts forward,'' said Brad Coker, managing director at Mason-Dixon Polling and Research. "It's always easier to sit back and take potshots.''
Tuesday's victory in New York by Democratic congressional candidate Kathy Hochul, who relentlessly attacked Ryan's plan to give Medicare recipients subsidies to buy private insurance, suggests that the Democratic Party is winning the message war, at least so far. Republicans are acknowledging that they need to get their act together.
On Wednesday, Bush's veteran strategist, Karl Rove, called for a "political war college'' that teaches Republicans how to hone their message on Medicare reform.
"Next year, Republicans must describe their Medicare reforms plainly, set the record straight vigorously when Democrats demagogue, and go on the attack,'' Rove wrote in a column for The Wall Street Journal. "They have to become as comfortable talking about Medicare in the coming year as they did in talking about health care reform last year.''
The new messaging challenge for Republicans recalls what Bush endured when he tried to reform Social Security in 2005. Democrats argued that his proposal to shore up the trust fund with private investment accounts would "kill'' or "privatize'' Social Security, unnerving seniors whose livelihoods depended on that monthly government check.
Republican consultant Rick Wilson said that the Democrats won't get away with "scaring seniors'' this time because of their widespread skepticism about Obama's ability to turn the economy around and rein in the deficit. Ryan's plan is based on the premise that Medicare and other entitlement programs are bankrupting the U.S., while Democrats argue that the overhaul will leave seniors even worse off.
"Democrats are straight-up fear-mongering, and it speaks to how little they have to offer the American people,'' said Wilson, who is advising Senate candidate Adam Hasner in Florida, a strong supporter of the Ryan plan in a state chock-full of elderly voters. "Democrats have talking points but no solutions.''
The good news for Republicans? The special election in New York's 26th District on Tuesday offered a test run of a key Democratic line of attack. Polls show that voters' opinions of Ryan's plan depend on how the question is worded. For example, a poll by the Kaiser Family Foundation found that 68 percent of respondents preferred the status quo after hearing an argument against changes to Medicare, while 54 percent favored an overhaul after hearing an argument in favor of reform.
"Without this election, Republicans might have rushed into 2012 with their Medicare message and gotten hammered,'' Coker said. "Now they know they need to make an adjustment.''