Tea Party Puts the Screws to House Republicans Over Debt Ceiling
Activists attack John Boehner and demand significant spending cuts as part of any deal to raise the federal limit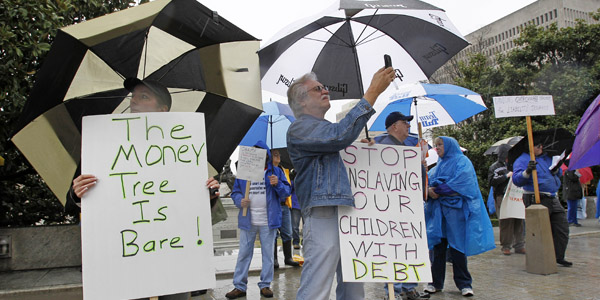 Tea party activists have taken some lumps lately, but they're not going down without a fight.
With TV ads, petitions and grassroots lobbying, tea party organizers are gearing up to send an absolutist message to Capitol Hill: Don't raise the debt ceiling under any circumstances. Tea party activists have already clashed publicly with some of the 87 GOP freshmen they helped elect last year, and they're warning that Republicans who don't keep their fiscal promises will pay a political price.
"We will remove as many incumbents as we can that do not do the job they were hired to do," Darla Dawald, national director of the tea party group Patriot Action Network, said in an e-mail. "We are watching every member of Congress, their votes, position and language."
A newly formed conservative political action committee has released an ad opposing a debt ceiling increase and disputing the $100 billion in cuts that House Speaker John Boehner, R-Ohio, touted in the recent budget agreement. The ad cites the Congressional Budget Office finding that cuts totaled less than $400 million. But its real target is President Obama and his "massive deficit spending."
The ad was released by the new Campaign to Defeat Barack Obama PAC, a spinoff of the Our Country Deserves Better PAC, the party of the Tea party Express. The latter is about to launch its own national TV ad campaign opposing a debt ceiling increase, said Amy Kremer, who chairs Tea party Express. The PAC raised and spent $7.7 million in the 2010 cycle, according to the Center for Responsive Politics.
Another conservative activist group, Grassfire Nation, is gathering signatures from its 1.8 million members on a petition opposing "any increase in the legal federal debt limit," to be delivered by hand in the coming weeks to lawmakers on Capitol Hill. A Grassfire Nation poll found that close to 80 percent of its members opposed raising the debt ceiling, even if conditions such as spending cuts or caps were attached.
"It's no secret that the tea party movement's unhappy," said Kremer. "You're seeing people on a local level really upset with their congressmen and women." Reps. Michael Grimm, R-N.Y., Tom Price, R-Ga., and David Schweikert, R-Ariz., are among the House Republicans who have fielded flak from conservative bloggers, demonstrators, or town hall hecklers upset that Congress isn't acting faster to bring down the deficit.
"There's a frustration that we can't move faster," said Americans for Tax Reform president Grover Norquist, referring to the tea party movement. "But also an understanding that their job is to say: Let's do more, let's do more, let's do more."
The debt ceiling vote will be a key test of both the tea party and of the GOP on the threshold of the 2012 election. Technically, the federal government will run out of money in mid-May, but Treasury Secretary Timothy Geithner has signaled that accounting adjustments may give Congress until early August to actually vote.
It's an open question how successful the tea party will be, both in the debt ceiling fight and on the campaign trail next year. Of the GOP freshmen, who've played a pivotal role in the unfolding budget drama, one bloc would raise the debt ceiling on the condition of substantive budget reforms or spending cuts, sources say. Another bloc opposes a debt ceiling increase flat out. And about a third are undecided.
Tea party activists are up against expert and administration warnings that failing to raise the debt limit could send the economy and the stock market into a tailspin. The tea party's star, moreover, may be fading.
A Capitol Hill protest in March to demand more budget cuts proved underwhelming. The movement's national leaders, most notably former Alaska Gov. Sarah Palin and Rep. Michele Bachmann, R-Minn., have drifted to the fringes of the GOP White House nominating contest. A couple of tea party PACs unveiled to much fanfare last year--Ensuring Liberty and Liberty First--have fizzled. And GOP leaders have signaled that certain tea party goals--repealing the health care law, partially privatizing Medicare--may or may not be on the table in ongoing debt limit negotiations.
It "absolutely is not true" that the movement is losing steam, countered Kremer. "You're not seeing the great big rallies that you did before, because people are engaged on a local level doing things."
Virginia tea party activist Jamie Radtke, who's launched a Senate campaign for the seat now held by Democratic Sen. Jim Webb, concurred that the movement is shifting from a national to a local focus: "There is a strong desire in the tea party movement to keep the tea party local."
Radtke predicted that activists will take the fight over the debt limit to the mat. "The GOP is on probation, because under President Bush they spent a lot of money, and added $3 trillion to the national debt," she said, adding: "You will see that the tea party will have no problem whatsoever challenging the very freshmen they put in."
Such warnings still make some on Capitol Hill very nervous. But as Republicans struggle between idealism and pragmatism, the GOP--and the tea party--might soon face a moment of truth.
This article appeared in the Monday, May 9, 2011 edition of National Journal Daily.
Image credit: Mark Humphrey/AP
Drop-down image credit: AP