Soap-Opera Special: Tea Party Woes Continue in N.Y.
In the 26th Congressional District, a race to replace Rep. Chris Lee of Craigslist fame once again sees the GOP divided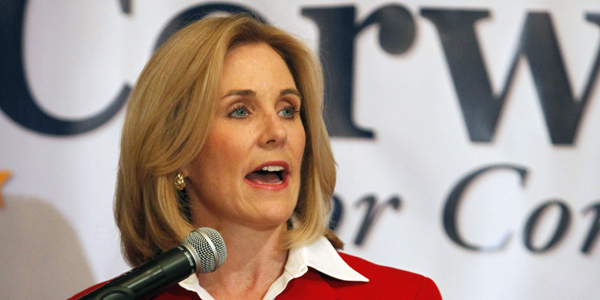 Republican State Assemblywoman and 26th District House candidate Jane Corwin
A tea-party candidate could bring down Republicans in New York once again as the state prepares for a special election in House District 26 in a contest that's taken on a Jerry Springer ambiance, providing yet another example of a statewide penchant for political melodrama.

The respected Rothenberg Political Report Monday moved the traditionally Republican district, which sits outside Buffalo, from the "Lean Republican" column into the "Toss-Up/Lean Democratic" one as a third-party candidate and a series of missteps have cost the once-favored Republican candidate support.
The election being held Tuesday, May 24, sees voters seeking to replace former congressman Chris Lee (R), who resigned in February after getting caught sending a flirtatious, shirtless photo of himself to a woman he met on Craigslist.
Now, Republican state Assemblywoman Jane Corwin is vying for the seat against Democratic Erie County Clerk Kathy Hochul and tea-party candidate Jack Davis.
Republicans had seemed poised to retain the district, which voted twice for former president George Bush and solidly for John McCain in 2008, but a messy candidate-selection process has left them in trouble.

New York Republicans don't hold primaries to select their candidates for special elections; instead, local party officials get together and pick one. Davis had sought the nomination and, failing to get it, now is opposing Corwin and running as a "tea party" candidate. After Corwin was selected in late February, the Buffalo News reported:
But at least one contender for the GOP nod, industrialist Jack Davis of Amherst, said he is not convinced the process is over. Because election law does not provide for a primary in the case of a special election, Davis said Monday he will ask the GOP chairmen to reconsider their vote.

Barring that unlikely event, Davis said he has offered his services to Democrats, on whose line he ran for the office three times. Davis reaffiliated with the Republicans last year and has even been helping the party financially, but Monday said he still prefers the Democratic approach to issues like free trade.

"I think I can get the Democratic endorsement," he said. "I still have connections there."
This development will sound familiar to close followers of electoral politics. In November 2009, the national tea-party movement coalesced around a third-party candidate in New York's 23rd Congressional District, the fiscal hawk Doug Hoffman, and opposed the selected Republican candidate, Dede Scozzafava, as too liberal. The National Republican Congressional Committee found itself at odds with the party's riled-up conservative base, and the GOP schism in N.Y. became the topic du jour. Hoffman went down in flames, and Democrats captured the Republican-leaning district. When the dust settled, many blamed the New York candidate-selection process for Scozzafava's presence in the race as an unsatisfactory option for conservative Republicans. More recently, tea party believers backed failed Republican gubernatorial candidate Carl Paladino, whose 2010 campaign self-destructed quite publicly after Paladino threatened a New York Post editor and said a bunch of homophobic stuff.
This time, though, at least one national tea party group is seeking to mend the intraparty divide and help the formal GOP candidate win. The Tea Party Express, the national tea-party group that backed Hoffman in 2009, is denouncing Davis as a fraud -- a tea-party impostor. From a Tea Party Express press release sent on Friday:
Though Davis is listed under "Tea Party" on the ballot, his political past reveals him as a liberal Democrat with a history of supporting higher taxes, ObamaCare, cap & trade legislation, contributing many thousands of dollars to far-left Democrat candidates, as well as endorsing Barack Obama for President.

Given Davis' past support for big-government liberals, it is extremely likely that he is running under the "Tea Party" name purely to confuse and deceive voters, in an effort to split the conservative vote and help a Democrat win the seat.
But Davis's presence in the campaign has already made its mark, perhaps most notably through a YouTube micro scandal in which he slapped a tracker -- a video man assigned to follow him in the hopes of a slip-up:
It was later reported that the man behind the camera was not only a Corwin staffer, but her top legislative aide, a disclosure that makes one wonder about the Corwin operation, given that trackers are generally younger, low-level staffers or volunteers.
Adding to the sad hilarity of this race, it also features Ian Murphy, the Buffalo Beast blogger who prank-called Wisconsin Gov. Scott Walker (R) pretending to be billionaire libertarian financier David Koch. Murphy is running as the Green Party candidate and has set up a fake Corwin campaign website that mocks her campaign mercilessly.
If Rothenberg is right, all this melodrama may steal another seat out from under the noses of New York Republicans.
Image credit: David Duprey/AP