Sizing Up Tim Pawlenty's Chances
With solid credentials in a weak field, the former governor may find an opening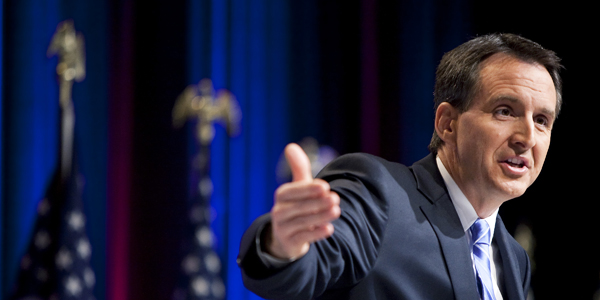 With Tim Pawlenty making his presidential bid official Sunday, pressure is mounting on him to persuade Republicans that he's a contender, not a consolation prize.
The former Minnesota governor is widely viewed as a credible candidate with above-average conservative credentials, smart handlers, and a compelling up-from-the-bootstraps story as the Midwestern son of a truck driver. But polls show he has yet to capture the imagination of primary voters.
Pawlenty also has yet to prove that he can compete with the fundraising prowess demonstrated by Mitt Romney, the putative front-runner and former Massachusetts governor whose 2008 campaign experience gives him a leg up.
With other potential big-name players dropping left and right--Mitch Daniels, Mike Huckabee, and Haley Barbour have all ruled out bids in recent weeks--and former House Speaker Newt Gingrich stumbling out of the starting gate, some Republican insiders already see the race narrowing into a faceoff between Pawlenty and Romney, each of whom can claim near favorite-son status in the two earliest-voting states. Pawlenty will hold his first rally as a bona fide candidate Monday morning in Iowa, the state he sees as his gateway to the nomination, while Romney is leading the polls in New Hampshire, whose media market he shared when he was governor of neighboring Massachusetts and where he owns a home.
"I think one of those two governors is very likely to be our nominee," said Fred Malek, national finance co-chairman for 2008 nominee John McCain. "It remains to be seen whether anyone else will join those two, possibly three, governors at the front of the line."
Besides Pawlenty and Romney, Malek was referring to Jon Huntsman, the former Utah governor who winds up his first major campaign swing as a potential candidate on Monday. Still an unknown quantity, he is expected to make a final decision on a campaign next month. Gingrich, trying to recover from a flap he set off by dismissing House Republicans' plans for Medicare, is stumping this week in New Hampshire and South Carolina, which will hold the third primary contest of 2012.
As Pawlenty pitches himself as the better alternative to Romney, three key dates loom on his calendar:
June 13. That's likely to be the first time Pawlenty faces off against Romney on national television, in a CNN-sponsored debate in Manchester, N.H. Pawlenty needs to show he can hold his own against his more seasoned competitor and that he's not afraid to throw some punches. His appearance Wednesday at the Washington-based Cato Institute, the libertarian think tank that has been critical of Romney's health care record, presents an obvious opportunity for Pawlenty to go on the attack.
June 30. That's the deadline for the second fundraising quarter of the year. No one expects Pawlenty to beat Romney, but he needs to show he can put enough dollars together to run a national campaign. Expect his campaign to make a beeline for financial supporters of Daniels, who took himself out of the race on Sunday, and to begin to manage expectations. Pawlenty is raising money Monday night in Tampa, Fla.
The yet-to-be-determined date of Michele Bachmann's will-she-or-won't-she campaign announcement. With Huckabee out of the race, the conservative firebrand and Minnesota congresswoman stands as arguably the biggest obstacle between Pawlenty and a symbolically important victory in the Iowa straw poll in August. The crowd's turnout and temperature at Pawlenty's rally Monday in Des Moines will be duly noted.
"I think people will start to measure the candidates who are actually running instead of the ones who aren't," said Danny Diaz, a former Republican party spokesman who worked on McCain's campaign. "The candidates will be measured on their debate performances, how their campaigns run, and how much money they raise. Now is when people have to demonstrate their mettle and whether they are serious candidates or not."
But Pawlenty will face competition for the Iowa conservatives he's counting on to launch him toward the nomination. The exit of a number of possible candidates could leave an opening for an underdog who so far has not attracted establishment support. That group includes Rick Santorum, Herman Cain, and Ron Paul.
"Whether one of those individuals is able to overperform and move their way into the first tier of the candidates needs to sort itself out," Diaz said. "There will be a point when people reassess the field."
Other GOP strategists predict that calls for higher-profile Republicans like former Florida Gov. Jeb Bush and New Jersey Gov. Chris Christie to get in the race will get louder.
"The current field is so weak. It leaves a lot to be desired," said Mike Hanna, who worked as Bush's political director in his 2002 reelection campaign. "I give Pawlenty credit for being out there and steadfastly campaigning, but I don't get excited about him. You feel like you'd be settling, and I don't know how he overcomes that."
Image credit: Joshua Roberts/Reuters