Schwarzenegger Fathered Child With Household Staffer, Hid It as Governor
In a statement to the Los Angeles Times he apologized to his family and asked that the press leave them alone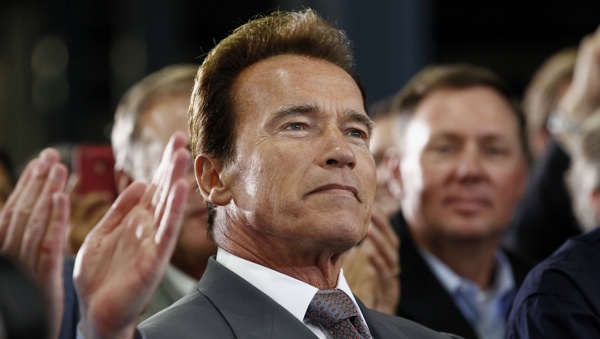 There are politicians who don't cheat on their wives, movie stars whose marriages don't end in divorce, and professional athletes who aren't womanizers, but a pro bodybuilder turned Hollywood star turned governor?
Arnold Schwarzenegger never had a chance.
His impending divorce has been the talk of Southern California drive time radio for at least the last week, and I've yet to encounter anyone surprised by the news. It's because we remember. Eight years ago, on the eve of the special election that won him the statehouse, the Los Angeles Times published a scathing story about his groping problem. "The initial Times report told the story of six women who said that the star had touched them in a suggestive or aggressive manner without their consent," James Rainey recalled this week. "Eventually, a total of 16 women, 11 of them giving their names, described physical humiliations suffered at the hands of the man who was running to replace Gray Davis as governor in the recall election."
Today the newspaper has finished what it started.
"Former California Gov. Arnold Schwarzenegger and his wife, Maria Shriver, separated after she learned he had fathered a child more than a decade ago -- before his first run for office -- with a longtime member of their household staff," says the front page story. "The staff member worked for the family for 20 years, retiring in January."
Eager as I am to break a good story, I'd have wrestled long and hard about being first to publish this information. Isn't it a private matter in the life of a man who is no longer a public official? He may deserve all the ridicule he's going to get, but I can't help but think that spouses of prospective political candidates across America are going to watch as Shriver is  harassed, and say to their husbands and wives, "Stay at the law firm. I'm not going to risk that happening to me."
Here's hoping that I'm mistaken, and that this part of Schwarzenegger's statement is heeded: "While I deserve your attention and criticism, my family does not." I'll go a step farther. The cheated on spouse often feels embarrassed and ashamed as these situations unfold. That's undeserved. A cheating husband shouldn't reflect poorly on his wife. She hasn't done anything wrong.
Image credit: Reuters

Drop-down image credit: Reuters