Republicans Launch Effort to Draft Paul Ryan for President
It could be a long shot, but with the 2012 field still settling a group of Republicans wants to recruit the House Budget chairman for a White House run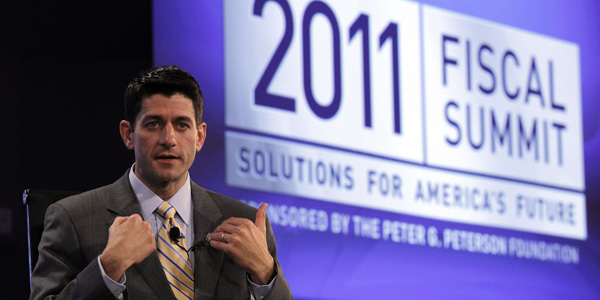 Further evidence that this is the summer of Republicans' discontent: Just as one group of well-heeled Iowans jets East today in hopes of persuading New Jersey Gov. Chris Christie to reconsider the 2012 GOP presidential race, another group of monied types is launching DraftRyanNow.com, an online petition -- and, they hope, national movement -- to coax House Budget Committee Chairman Paul Ryan (R-Wis.), into the contest.
The group is headed by Denison Smith, a northern Virginia-based communications investor, and Charles Kozak, a Nevada lawyer and GOP political activist who briefly sought his state's GOP Senate nomination last year before throwing his support to Sharron Angle. The group, which includes members from the early-voting states of Iowa and Florida, and has "top-flight" online communications skills to get the movement launched, Smith told National Journal.
Never mind that Ryan has protested on countless occasions his unwillingness to leave his powerful House post. Smith says the group hopes to produce a groundswell that will convince him it is his patriotic duty, much the same way Republicans in the 1950s persuaded a reluctant retired Gen. Dwight Eisenhower to run for the presidency.
Members of the Draft Ryan group believe that government overspending is the most important issue facing the country and that most Republican presidential hopefuls are compromised on it, Smith contends: "Ryan is the only one of the whole group -- other than Herman Cain -- to speak to it."
So why not back Cain? "We might," concedes Smith. But priority one is getting Ryan into the race, he says, adding: "They'd make a wonderful combination."