Rand Paul's Stand Against the PATRIOT Act
Video of his fiery speech batting back at Senate Majority Leader Harry Reid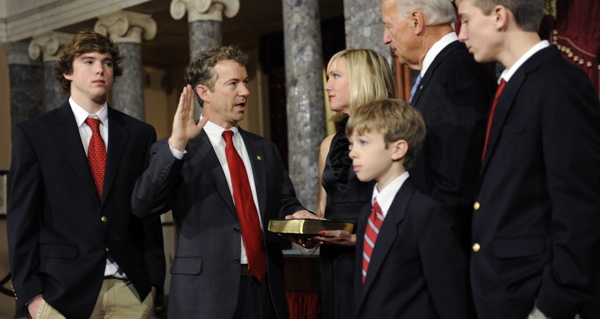 Senate Majority Leader Harry Reid channeled his inner Dick Cheney this week as he urged his colleague Rand Paul to drop objections to the PATRIOT Act and re-authorize the legislation: "If the senator from Kentucky refuses to relent," Reid said, "that would increase the risk of a retaliatory terrorist strike against the homeland and hamper our ability to deal a truly fatal blow to al-Qaida."
That's a lie. As Julian Sanchez persuasively shows, a brief expiration of PATRIOT Act provisions wouldn't have any impact on national security. Scaremongering to the contrary is execrable. That's part of the message Paul delivered when he took to the Senate floor to fight back Thursday:
As it turns out, two PATRIOT Act amendments that Paul proposed were given a vote. As Dave Weigel reports: "There was no expectation that they would pass. There would be no vote on a more comprehensive Democratic-sponsored amendment; Paul's amendments were the bones thrown to libertarians."
Here is how Dan Foster of National Review characterized today's events: "Rand Paul is 435 times more powerful than his father, but appears just as happy to stick to impotent protests." I am less dismissive of his PATRIOT Act opposition. He has made a powerful argument to the public, fulfilled his oath to protect and defend the Constitution by acting against what he regards to be violations of it, and succeeded in getting Senators on record opposing specific reforms.
That matters.
Should additional abuses come to light, we'll know these senators bear responsibility for failing to stop them. And when they next run for re-election, their challengers will be able to tell voters exactly where they stand. Representative democracy depends on legislators taking these stands, and Paul made it happen.


Image credit: Reuters