Picture of the Day: The First Schwarzenegger-Shriver Shot
Photographer Brad Elterman revealed the two were a couple with this image taken at a celebrity softball game in Las Vegas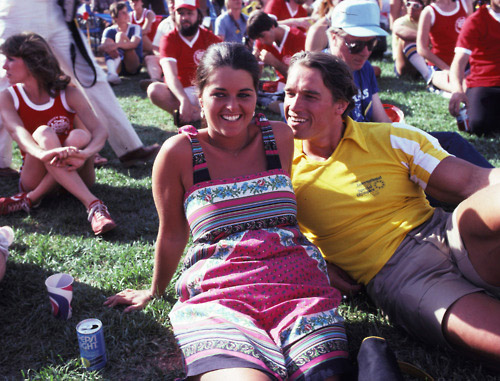 Time flies, even for the famous. Former California governor Arnold Schwarzenegger and Kennedy clan scion Maria Shriver announced their separation this week, prompting photographer Brad Elterman to dig the above photograph out of his archives, where it had sat for 30 years.
Elterman, a chronicler of the late-1970s Hollywood rock 'n roll and celebrity scene, says he took the photo at "a Kenny Rogers Golden Nugget celebrity softball game" in Las Vegas. It was the first shot of Schwarzenegger and Shriver together to be made public, breaking the story that the two were a couple, Elterman wrote on his Tumblr blog.
You can see more of his Hollywood photography at BradElterman.com. It's mostly, but not entirely, SFW, and the site launches with a pool party montage you should probably only watch if you have an office with a door. (Rock n' roll, man.)
This shot of a young Joan Jett at the Tropicana motel in '78 is also pretty sweet. You can follow Elterman on Facebook here.
Image credit: Brad Elterman.