Picture of the Day: Superheroes! The Ultimate Situation Room Meme
Obama as Captain America, Defense Secretary Robert Gates as the Martian Manhunter, Hillary Clinton as Wonder Woman -- and more
Obama as Captain America, Defense Secretary Robert Gates as the Martian Manhunter, Hillary Clinton as Wonder Woman -- and more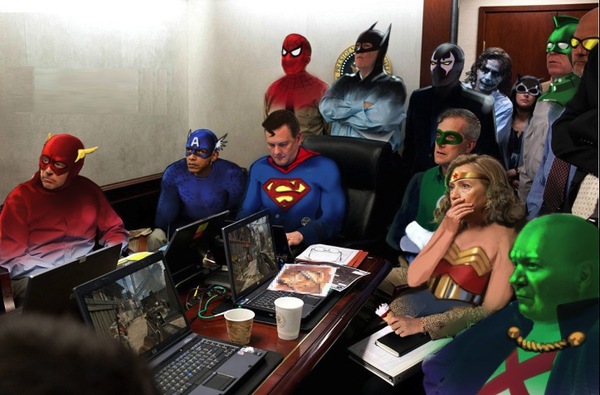 Pete Souza's photo of President Obama and his national-security team in the White House Situation Room watching the Osama bin Laden raid has been thoroughly memeified since its release.
Now comes the ultimate Situation Room meme, featuring the national-security players as superheroes. Drawn mainly from the Marvel and D.C. Comics universes, the unsigned photoshop showcases some surprisingly apt casting -- as well as some heroes known only to the hardcore. We are told!
The team and the corresponding superhero identities, starting from the left for each row as with our original numbering:
1. Vice President Biden as The Flash
2. President Obama as Captain America
3. Air Force Brigadier General Marshall Webb, Assistant Commanding General, Joint Special Operations Command, as Superman
4. Deputy National Security Advisor Denis McDonough as Green Lantern
5. Secretary of State Hillary Clinton as Wonder Woman
6. Secretary of Defense Robert Gates as Martian Manhunter
7. Admiral Mike Mullen, Chairman of the Joint Chiefs of Staff, as Spider-Man
8. National Security Adviser Thomas Donilon as Batman
9. Chief of Staff William Daley as Spawn
10. Antony Blinken, National Security Adviser to Vice President Biden, as The Crow
11. Audrey Tomason, the National Security Council's Director for Counterterrorism, as Catwoman.
12. John Brennan, Assistant to the President for Homeland Security and Counterterrorism as Captain Marvel (with Kree DNA).
13. Director of National Intelligence James Clapper as possibly the Cartoon Network version of Robin, or maybe just a guy in sunglasses.
Image via @JoshRogin