Picture of the Day: Blogger Who Punked Gov. Walker Mocks Campaign Rival With Fake Website
A cautionary tale of what happens to campaigns that buy the .com but not the .org
A cautionary tale of what happens to campaigns that buy the .com but not the .org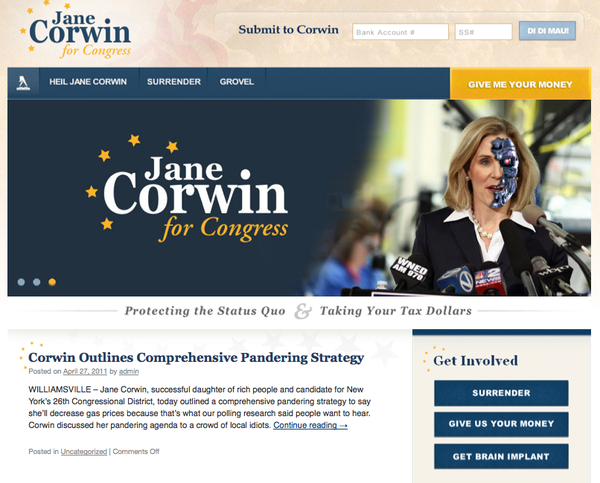 Republican Jane Corwin is running for Congress in New York's 26th district special election, and this is not her website.
JaneCorwin.org is, in fact, a parody site that rips the state assemblywoman as a corporate shill and hilariously mocks the stock photography and conventional political imagery on her campaign's actual website, JaneCorwin.com. Corwin is running for the seat vacated by disgraced Rep. Chris Lee (R), who resigned from Congress in February after half-naked photos of him surfaced on Craigslist.
"Eww! A gay just touched my SUV," reads a fake tweet from a fake Corwin Twitter feed.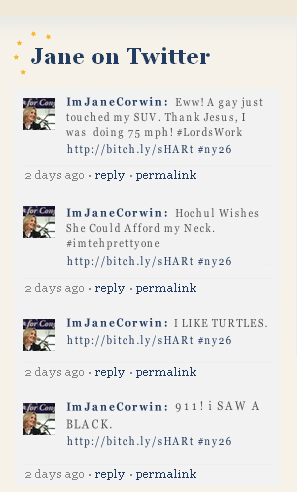 "Surrender Today!" suggests a page purporting to collect supporters' contact information.
"Based on her thirty-six years of private sector experience, Jane Corwin knows that her family is like, super rich," a fake bio tells us.
The site was registered by Paul Fallon, publisher of The Buffalo Beast, under whose aegis blogger Ian Murphy tricked Wisconsin Gov. Scott Walker (R) by pretending to be billionaire libertarian financier David Koch during a telephone call in February. From a who.is search: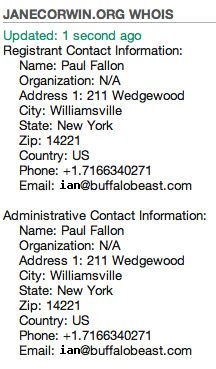 You'll notice the email contact listed, ian@buffalobeast.com, appears to be Ian Murphy's email address.
Murphy, as it turns out, is running against Corwin on the Green Party ticket. The donations page of JaneCorwin.org links to the PayPal account of Murphy's campaign.
Corwin's campaign could not be reached for comment on the fake website. Corwin and Murphy are running against tea party candidate Jack Davis and Democrat Kathy Hochul, whom the fake Corwin calls ugly more than once on the parody site.
For any aspiring politicians out there, the lesson is clear: Register alternate domain names before someone else does.