Pat Boone Campaigns for the Paul Ryan Medicare Plan
As spokesman for the 60-Plus Association, Boone might be the only prominent senior advocate speaking up in favor of GOP entitlement reforms. Is he onto something?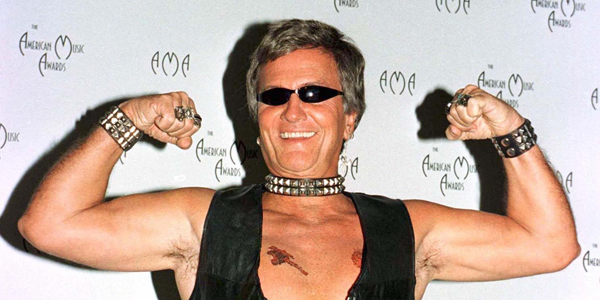 In the 1950s, Pat Boone crooned. In the late 1990s, he crooned metal.
But since 2003, Boone has served as spokesman for the 60 Plus Association, a group that advocates on issues related to seniors, positing itself as a conservative counterweight to AARP on some issues. He does not get paid for his work, according to the group.
Now, Boone is campaigning for Rep. Paul Ryan's (R-Wisc.) Medicare plan, which would transform Medicare from a fee-for-service health coverage provider to a supplier of direct checks to seniors. Under Ryan's plan, seniors would get "premium support" payments to buy private insurance from a list of government-approved plans.
"Harry Reid and his cohorts are not fooling seniors with the 'Medi-scare' tactics. Rep. Ryan's budget will not end Medicare. Instead, it will preserve the offerings of this program for our children and grandchildren," Boone wrote in a 60 Plus press release Friday morning. "He's not proposing to take $500 billion out of Medicare -- that's President Obama's plan!"
Boone continued: "When they controlled Washington, Democrats, led by President Obama, failed to address the solvency issue of Medicare. ... This course will lead to certain bankruptcy. This senior isn't going to take it. I'm going to lace up my white shoes and spread the news far and wide that this administration is trying to mislead and scare seniors."
A quick fact-check on Boone's statement: Boone glossed over the fact that Ryan's plan would entail cuts from Medicare, too. Obama's Affordable Care Act reduces the projected growth of future Medicare spending by $500 billion over the next 10 years, but Ryan's plan would also significantly reduce Medicare-spending growth. Compared to the current law signed by Obama, Ryan's plan would devote roughly 25 percent less taxpayer money to Medicare and Medicaid combined in 2022, according to the Congressional Budget Office. A typical 65-year-old would have to pay 34 percent more for his/her benefits in that year.
Boone might be the only prominent senior advocate speaking up in favor of the plan.
The AARP is campaigning hard against Ryan's proposal. Earlier this month, the group launched a multimillion-dollar ad campaign urging Congress to "stop the harmful cuts to Medicare and Social Security," as an attempt to beat back both the Ryan plan and GOP efforts to attach long-term spending reforms to a vote on the debt ceiling. In an interview with The Atlantic, AARP said it is open to expanding that ad buy. The Alliance for Retired Americans is also airing ads against the plan.
But Boone may be onto something, in terms of pro-Ryan talking points. Republicans are struggling to sell Ryan's plan, and as the recent special House election in upstate New York showed, Medicare politics can be dangerous for GOP candidates if they don't develop and stick to good talking points on the Ryan plan.
Republican candidate Jane Corwin, who lost the race, finally landed on a message that she wants to "save" Medicare by supporting the Ryan plan. That seems to be what Boone is getting at.
Democrats in the party committees and in independent groups have hammered Republicans for wanting to dismantle Medicare. Ryan and his staff have countered by arguing that Medicare's current is unsustainable, and that the Ryan plan isn't about voucherizing Medicare for fun, but rather as a response to fiscal reality. The Congressional Budget Office projects that, under current law, health-entitlement spending is set to increase 30 percent over the next ten years, as a percent of GDP. Under Ryan's plan, it remains constant.
So while Boone neglects to remind people that Ryan's plan actually does involve significant cuts to Medicare spending, and while he uses a questionable dichotomy to lambaste Democrats, Boone also sticks to the point toward which disciplined Republicans have gravitated: that Ryan's plan is an alternative to bankruptcy.
Image credit: Fred Prouser/Reuters