Palin to Launch Bus Tour This Weekend
Another indication that the former governor plans to run in 2012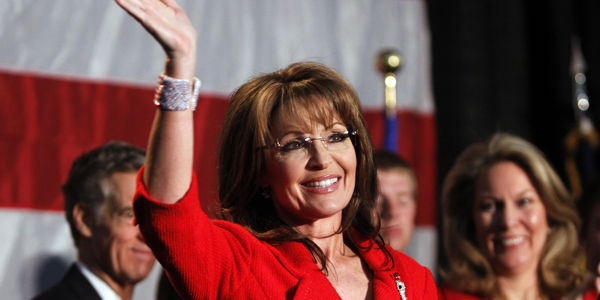 After a week in which she reignited speculation about her presidential ambitions, Sarah Palin is announcing plans for what looks like a campaign tour, beginning with an appearance on Sunday at the "Rolling Thunder" Memorial Day motorcycle rally of military veterans in Washington.
The 2008 Republican vice presidential nominee, who acknowledged last week that she is "seriously considering" a run for the presidency, will continue her "One Nation" tour with as-yet-to-be-announced stops in New England. The trip will take her to "historical sites that were key to the formation, survival, and growth of the United States of America," said spokesman Tim Crawford. An announcement on Palin's website bills the tour as "campaign to ... promote the fundamental restoration of America," and it suggests a "generous donation" to her political action committee, SarahPAC. The website also features photos of the bus in which Palin presumably plans to travel, custom-painted with a fascimile of the Constitution and Palin's signature.
(GRAPHIC: The GOP presidential field: Who's in, who's out?)
Palin-watchers should jump to "no conclusions" about the former Alaska governor's 2012 plans, Crawford told National Journal.
The announcement from the Palin camp comes amid renewed intrigue over her 2012 ambitions, fueled by news that a flattering documentary about her career will debut next month in Iowa, the state where the first votes of the 2012 presidential season will be cast early next year.
(PICTURES: Meet the 2012 GOP presidential hopefuls)
Crawford confirmed that the campaign recently rehired two former aides who had advanced Palin's travel but who left her employ earlier this year. "Their skills were needed," Crawford said of the two aides, Doug McMarlin and Jason Recher.
(Follow National Journal on Twitter)
Palin's plans are sure to roil a Republican presidential field that had appeared to be taking shape. Her appearance with Rolling Thunder, a gathering of Harley-riding veterans, appears designed to cement her ties with blue-collar voters and underscores the threat she poses to other candidates who had hoped to appeal to the same conservative-leaning constituency.
Among them: former Minnesota Gov. Tim Pawlenty, who officially launched his campaign this week; ex-Sen. Rick Santorum, R-Pa., who has set an official campaign launch for June 6, and Rep. Michele Bachmann, R-Minn., who has said she also will make a decision about her presidential plans next month.
Crawford indicated to National Journalthat any announcement about Palin's plans may be months away. Last week, in an interview with Fox News, Palin said that her timetable will be dictated by legal filing deadlines, the first of which falls in October, when Utah requires candidates to file for its presidential primary ballot.
Palin cooperated with the making of "The Undefeated," a documentary about her by conservative filmmaker Stephen Bannon, Crawford said, but he described the project as "independent of us." However, Bannon has hired a conservative publicity firm, CRC Public Relations, whose partners have extensive experience in political campaigns.
Whether Palin's latest foray into the national spotlight will turn out to be the prelude to another presidential campaign or a high-profile promotional tour that leads her back to a lucrative television career--the path followed by onetime GOP presidential hopefuls Donald Trump and Mike Huckabee--is a question that puzzles even some who know her.
Said Fred Malek, a longtime Republican fundraiser who has been close to Palin: "The first thing you learn about Sarah Palin is that you never know."
Image credit: Ed Andrieski/AP
Drop-down image credit: AP