The latest on the daring raid that took out the terrorist mastermind and Sept. 11 architect
2:54 p.m. The San Diego Union-Tribune reports on Osama bin Laden's "burial" at sea:
An official at Monday's Pentagon briefing said the body was washed and placed in a white sheet. It was then placed in a "weighted bag," and a military officer read prepared "religious remarks," which were translated into Arabic by a "native speaker" who was not further identified.

The body was then placed on a "prepared flat board, tipped up, whereupon the deceased's body eased into the sea," the official said.

The deceased terrorist was buried at sea because no country would accept bin Laden's remains, a senior defense official said.

The Navy has not yet offered details or released photos.
1:52 p.m. Wired's Danger Room blog makes clear that the "main security measures" protecting Osama bin Laden's compound, pictured here, "come from where it was built: 35 miles 'northeast - towards India - of Islamabad and within the Pakistan air defense intercept zone for the national capital,' as the Nightwatch intelligence newsletter observes.
"It means no drone could've pulled off the hit on Bin Laden."
1:07 p.m. The New Yorker's Steve Coll says the "initial circumstantial evidence suggests ... that bin Laden was effectively being housed under Pakistani state control."
"Looking at maps and satellite photos on the Web last night, I saw the wide expanse of the Academy not far from where the million-dollar, heavily secured mansion where bin Laden lived was constructed in 2005. The maps I looked at had sections of land nearby marked off as "restricted area," indicating that it was under military control," he writes. "It stretches credulity to think that a mansion of that scale could have been built and occupied by bin Laden for six years without it coming to the attention of anyone in Pakistan's Army."
11:06 a.m. The Associated Press reports: "Two Obama administration officials say DNA evidence has proven that Osama bin Laden is dead, with 99.9 percent confidence.
"The officials did not immediately say where or how the testing was done but the test explains why President Barack Obama was confident to announce the death to the world Sunday night."
10:34 a.m. Former Defense Secretary Donald Rumsfeld has posted a statement on Facebook. "All of this was made possible by the relentless, sustained pressure on al Qaeda that the Bush administration initiated after 9/11 and that the Obama administration has wisely chosen to continue," he said. "This is an important victory in the fight against Islamist terrorism, but the struggle will go on. We must not have any illusions that it ends today or that America can afford to let down its guard tomorrow. " Full statement.
10:11 a.m. National Journal's Marc Ambinder takes us inside "The Secret Team That Killed bin Laden":
From Ghazi Air Base in Pakistan, the modified MH-60 helicopters made their way to the garrison suburb of Abbottabad, about 30 miles from the center of Islamabad. Aboard were Navy SEALs, flown across the border from Afghanistan, along with tactical signals, intelligence collectors, and navigators using highly classified hyperspectral imagers.

After bursts of fire over 40 minutes, 22 people were killed or captured. One of the dead was Osama bin Laden, done in by a double tap -- boom, boom -- to the left side of his face. His body was aboard the choppers that made the trip back. One had experienced mechanical failure and was destroyed by U.S. forces, military and White House officials tell National Journal.

Were it not for this high-value target, it might have been a routine mission for the specially trained and highly mythologized SEAL Team Six, officially called the Naval Special Warfare Development Group, but known even to the locals at their home base Dam Neck in Virginia as just DevGru.
9:55 a.m. The Wall Street Journal has a slideshow of the Abbottabad compound the day after the attack. Described in U.S. reports as a "mansion," the pictures remind that mansion is a relative term in the international arena; I am not sure that's how this big, blocky structure with its barely finished exteriors would be described by an impartial U.S. eye.
9:44 a.m. ABC News has footage from "inside the kill site":
9:22 a.m. Politico's Mike Allen provides the tick tock on the raid in his morning Playbook:
Obama rejected original plan for bombing; wanted proof - Navy SEALS held two rehearsals last month, with war cabinet monitoring from White House - Raid planned for Saturday but pushed off a day because of weather - Chopper stalled as it hovered over the compound - Forces blew it up and left in a reinforcement craft -- How the fiery raid went down, as told to Playbook by senior administration officials: The compound -- about an acre, with a three-story house - is in Abbottabad, a suburb of the Pakistani capital, Islamabad. Officials were very suspicious of the 12- to 18-foot-high walls, and seven-foot wall on the upper balcony. Residents burned their trash, and there was no telephone or Internet connection to the compound, valued at $1 million. But officials never had anything directly proving that Osama bin Laden was living there. The U.S. had discovered the compound by following a personal courier for bin Laden. Officials didn't learn his name until 2007, then it took two years to find him and track him back to this compound, which was discovered in August 2010. "It was a "Holy cow!" moment," an official said.

The original plan for the raid was to bomb the house, but President Obama ultimately decided against that. "The helicopter raid was riskier. It was more daring," an official said. "But he wanted proof. He didn't want to just leave a pile of rubble." Officials also knew there were 22 people living there, and Obama wanted to be sure not to kill all the civilians. So he ordered officials to come up with an air-assault plan. The forces held rehearsals of the raid on April 7 and April 13, with officials monitoring the action from Washington.... At 8:20 a.m. Friday, the president informed National Security Adviser Tom Donilon that he was authorizing the operation. Donilon signed a written authorization to CIA Director Leon Panetta, who commanded the strike team. The raid was scheduled for Saturday, but weather pushed it to yesterday. The Navy SEALs arrived at the compound at 3:30 p.m. ET yesterday and were gone by 4:15 p.m....

The helicopter carrying the assault force appeared to stall as it hovered over the compound, producing heart-stopping moments for the officials back in Washington. Aides thought fearfully of "Black Hawk Down" and "Desert One," the failed Iranian hostage rescue mission. The pilot put the bird down gently in the compound, but couldn't get it going again. The assault force disembarked. "They went ahead and raided the compound, even though they didn't know if they would have a ride home," an official said. The special forces put some bombs on the helicopter and blew it up. Bin Laden resisted the assault force, and was shot in the face during a firefight. With the team still in the compound, the commander on the ground told another commander that they had found Osama bin Laden. Applause erupted in Washington. Reinforcements came and picked up the SEALs, who had scavenged every shred and pixel of possible intelligence material from the house. U.S. forces took photographs of the body, and officials used facial-recognition technology to compare them with known pictures of bin Laden. It was him.
8:38 a.m. The FBI's "Most Wanted Terrorists" page on "Usama bin Laden" has been updated with the word "deceased."
8:31 a.m. Former vice president Dick Cheney has congratulated "President Obama and the members of his national security team" for their "tremendous achievement."
"The death of Osama bin Laden at the hands of American forces is a victory for the United States and a tremendous achievement for the military and intelligence professionals who carried out this important mission," Cheney said in a statement. "Their tireless work since 9/11 has made this achievement possible, and enabled us to capture or kill thousands of al Qaeda terrorists and many of their leaders. I also want to congratulate President Obama and the members of his national security team.
"At this moment when bin Laden has been brought to justice, we especially remember the sacrifice of the young Americans who've paid the ultimate price in defense of the nation, as well as the nearly 3000 Americans who lost their lives on 9/11. Al Qaeda remains a dangerous enemy. Though bin Laden is dead, the war goes on. We must remain vigiliant, especially now, and we must continue to support our men and women in uniform who are fighting on the front lines of this war every day. Today, the message our forces have sent is clear -- if you attack the United States, we will find you and bring you to justice."
3:24 a.m. Osama bin Laden's body has already been buried at sea, according to reports from ABC News and others. This is certain to give rise to conspiracy theories. But whatever doubts it spawns, burying his body at sea will prevent his final resting place from ever becoming a pilgrimage site.
2:43 a.m. Via the Associated Press, video of Osama bin Laden's compound burning:
2:37 a.m. Television personality and former Alaska governor Sarah Palin has released a statement on the death of Osama bin Laden as a Facebook note. "Americans tonight are united in celebration and gratitude," she wrote, adding: "This is a victory for the American people, for the victims who were heartlessly murdered on September 11 and in Al Qaeda's other numerous attacks, and for all the peace-loving people of the world." Like Romney, she did not mention President Obama by name in her statement.
2:31 a.m. Alexis Madrigal posts video of what it was like to walk up to the White House tonight, where crowds of jubilant college students and tourists mingled with notable Washingtonians such as Leon Wieseltier to mark the death of Osama bin Laden, shortly after Obama's remarks.
2:18 a.m. YouTube's Kevin Allocca observes, "After the announcement, YouTube began seeing a surge in videos uploaded of both YouTube user reactions and on-the-scene videos from gatherings and celebrations around the country, including at the United States Naval and Air Force academies, Ground Zero, and a number of universities."
Caption: "About 3000 Cadets stormed Spirit Hill following President Obama's address to the nation that Osama Bin Laden is dead by American hands." To watch more reaction videos, see Allocca's post.
1:45 a.m. IT consultant Sohaib Athar of Abbottabad, Pakistan, accidentally live-tweeted the raid on the compound where Osama bin Laden was living via his account @ReallyVirtual. Some of his tweets as the U.S. assault went down:
The abbottabad helicopter/UFO was shot down near the Bilal Town area, and there's report of a flash. People saying it could be a drone.less than a minute ago via TweetDeck
Favorite
Retweet
Reply
Sohaib Athar
ReallyVirtual
Since taliban (probably) don't have helicpoters, and since they're saying it was not "ours", so must be a complicated situation #abbottabadless than a minute ago via TweetDeck
Favorite
Retweet
Reply
Sohaib Athar
ReallyVirtual
A huge window shaking bang here in Abbottabad Cantt. I hope its not the start of something nasty :-Sless than a minute ago via TweetDeck
Favorite
Retweet
Reply
Sohaib Athar
ReallyVirtual
Helicopter hovering above Abbottabad at 1AM (is a rare event).less than a minute ago via TweetDeck
Favorite
Retweet
Reply
Sohaib Athar
ReallyVirtual
1:36 a.m. From the ABC World News Tumblr, because that's how things work now, a sign spotted at Ground Zero, NYC: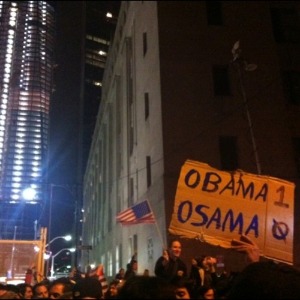 1:28 a.m. This image really says it all.
1:22 a.m. The Atlantic and National Journal teams are all over this story. For more, see:
• Jeffrey Goldberg: "The Meaning of Where Bin Laden Was Killed, and Where is Zawahiri?" and many other posts on his blog
• Joshua Green: "Obama's Moment"
• Marc Ambinder: "With Bin Laden's Death, a Triumph For Obama / The CIA, JSOC and lesser known warriors also in spotlight"

1:10 a.m. If you're looking to follow the story on Twitter, The New York Times' @lexinyt is at Ground Zero in New York City; The Washington Post's @katierogers and @greglinch are outside the White House; and @smudailymustang is outside former president Bush's home in Dallas.
1:00 a.m. The Washington Examiner's Alex Pappas tweets this picture of a man swigging champagne outside the White House:
12:52 a.m. The New York Times has published its obituary of Osama bin Laden. (I can't believe I finally get to type those words.)
12:45 a.m. "After September 11, 2001, we gave our word as Americans that we would stop at nothing to capture or kill Osama bin Laden. After the contribution of millions, including so many who made the ultimate sacrifice for our nation, we have kept that word," New York City Mayor Michael Bloomberg said in a statement. "The killing of Osama bin Laden does not lessen the suffering that New Yorkers and Americans experienced at his hands, but it is a critically important victory for our nation -- and a tribute to the millions of men and women in our armed forces and elsewhere who have fought so hard for our nation."
"New Yorkers have waited nearly ten years for this news. It is my hope that it will bring some closure and comfort to all those who lost loved ones on September 11, 2001," he added.
12:38 a.m. Alexis Madrigal reports from in front of the White House: "Conga line broke out. Madhouse. At one point, people start singing, 'nah nah nah, nah nah nah, goodbye.' As if he was an opposing pitcher knocked out of a game. Or a guy with five fouls.
"People are swarming the TV cameras. The scene away from them is calmer but jubilant."
12:26 a.m. The president's complete remarks, from the White House:
Good evening. Tonight, I can report to the American people and to the world that the United States has conducted an operation that killed Osama bin Laden, the leader of al Qaeda, and a terrorist who's responsible for the murder of thousands of innocent men, women, and children.

It was nearly 10 years ago that a bright September day was darkened by the worst attack on the American people in our history. The images of 9/11 are seared into our national memory -- hijacked planes cutting through a cloudless September sky; the Twin Towers collapsing to the ground; black smoke billowing up from the Pentagon; the wreckage of Flight 93 in Shanksville, Pennsylvania, where the actions of heroic citizens saved even more heartbreak and destruction.

And yet we know that the worst images are those that were unseen to the world. The empty seat at the dinner table. Children who were forced to grow up without their mother or their father. Parents who would never know the feeling of their child's embrace. Nearly 3,000 citizens taken from us, leaving a gaping hole in our hearts.

On September 11, 2001, in our time of grief, the American people came together. We offered our neighbors a hand, and we offered the wounded our blood. We reaffirmed our ties to each other, and our love of community and country. On that day, no matter where we came from, what God we prayed to, or what race or ethnicity we were, we were united as one American family.

We were also united in our resolve to protect our nation and to bring those who committed this vicious attack to justice. We quickly learned that the 9/11 attacks were carried out by al Qaeda -- an organization headed by Osama bin Laden, which had openly declared war on the United States and was committed to killing innocents in our country and around the globe. And so we went to war against al Qaeda to protect our citizens, our friends, and our allies.

Over the last 10 years, thanks to the tireless and heroic work of our military and our counterterrorism professionals, we've made great strides in that effort. We've disrupted terrorist attacks and strengthened our homeland defense. In Afghanistan, we removed the Taliban government, which had given bin Laden and al Qaeda safe haven and support. And around the globe, we worked with our friends and allies to capture or kill scores of al Qaeda terrorists, including several who were a part of the 9/11 plot.

Yet Osama bin Laden avoided capture and escaped across the Afghan border into Pakistan. Meanwhile, al Qaeda continued to operate from along that border and operate through its affiliates across the world.

And so shortly after taking office, I directed Leon Panetta, the director of the CIA, to make the killing or capture of bin Laden the top priority of our war against al Qaeda, even as we continued our broader efforts to disrupt, dismantle, and defeat his network.

Then, last August, after years of painstaking work by our intelligence community, I was briefed on a possible lead to bin Laden. It was far from certain, and it took many months to run this thread to ground. I met repeatedly with my national security team as we developed more information about the possibility that we had located bin Laden hiding within a compound deep inside of Pakistan. And finally, last week, I determined that we had enough intelligence to take action, and authorized an operation to get Osama bin Laden and bring him to justice.

Today, at my direction, the United States launched a targeted operation against that compound in Abbottabad, Pakistan. A small team of Americans carried out the operation with extraordinary courage and capability. No Americans were harmed. They took care to avoid civilian casualties. After a firefight, they killed Osama bin Laden and took custody of his body.

For over two decades, bin Laden has been al Qaeda's leader and symbol, and has continued to plot attacks against our country and our friends and allies. The death of bin Laden marks the most significant achievement to date in our nation's effort to defeat al Qaeda.

Yet his death does not mark the end of our effort. There's no doubt that al Qaeda will continue to pursue attacks against us. We must -- and we will -- remain vigilant at home and abroad.

As we do, we must also reaffirm that the United States is not -- and never will be -- at war with Islam. I've made clear, just as President Bush did shortly after 9/11, that our war is not against Islam. Bin Laden was not a Muslim leader; he was a mass murderer of Muslims. Indeed, al Qaeda has slaughtered scores of Muslims in many countries, including our own. So his demise should be welcomed by all who believe in peace and human dignity.

Over the years, I've repeatedly made clear that we would take action within Pakistan if we knew where bin Laden was. That is what we've done. But it's important to note that our counterterrorism cooperation with Pakistan helped lead us to bin Laden and the compound where he was hiding. Indeed, bin Laden had declared war against Pakistan as well, and ordered attacks against the Pakistani people.

Tonight, I called President Zardari, and my team has also spoken with their Pakistani counterparts. They agree that this is a good and historic day for both of our nations. And going forward, it is essential that Pakistan continue to join us in the fight against al Qaeda and its affiliates.

The American people did not choose this fight. It came to our shores, and started with the senseless slaughter of our citizens. After nearly 10 years of service, struggle, and sacrifice, we know well the costs of war. These efforts weigh on me every time I, as Commander-in-Chief, have to sign a letter to a family that has lost a loved one, or look into the eyes of a service member who's been gravely wounded.

So Americans understand the costs of war. Yet as a country, we will never tolerate our security being threatened, nor stand idly by when our people have been killed. We will be relentless in defense of our citizens and our friends and allies. We will be true to the values that make us who we are. And on nights like this one, we can say to those families who have lost loved ones to al Qaeda's terror: Justice has been done.

Tonight, we give thanks to the countless intelligence and counterterrorism professionals who've worked tirelessly to achieve this outcome. The American people do not see their work, nor know their names. But tonight, they feel the satisfaction of their work and the result of their pursuit of justice.

We give thanks for the men who carried out this operation, for they exemplify the professionalism, patriotism, and unparalleled courage of those who serve our country. And they are part of a generation that has borne the heaviest share of the burden since that September day.

Finally, let me say to the families who lost loved ones on 9/11 that we have never forgotten your loss, nor wavered in our commitment to see that we do whatever it takes to prevent another attack on our shores.

And tonight, let us think back to the sense of unity that prevailed on 9/11. I know that it has, at times, frayed. Yet today's achievement is a testament to the greatness of our country and the determination of the American people.

The cause of securing our country is not complete. But tonight, we are once again reminded that America can do whatever we set our mind to. That is the story of our history, whether it's the pursuit of prosperity for our people, or the struggle for equality for all our citizens; our commitment to stand up for our values abroad, and our sacrifices to make the world a safer place.

Let us remember that we can do these things not just because of wealth or power, but because of who we are: one nation, under God, indivisible, with liberty and justice for all.

Thank you. May God bless you. And may God bless the United States of America.
12:22 a.m. The Washington Post has posted Osama bin Laden's obituary.
12:17 a.m. Alexis Madrigal reports that people are streaming toward the White House and into the streets of Washington: "Chants of USA breaking out, fading. Cars honking, whooping. People in going out clothes, pajamas."
12:11 a.m. I asked a friend stationed in Islamabad what the neighborhood of Abbottabad where Osama bin Laden was killed is like. "It's actually a town outside of Isloo, maybe 1.5-2 hours away, depending on traffic," he emailed, using a nickname for Islamabad. "It's an old British military garrison town, a hill station. Quite nice. Heavy Pak mil presence."
12:07 a.m. The Republican probable presidential candidates are weighing in.
Mitt Romney: "This is a great victory for lovers of freedom and justice everywhere. Congratulations to our intelligence community, our military and the president. My thoughts are with the families of Osama bin Laden's many thousands of victims, and the brave servicemen and women who have laid down their lives in pursuit of this murderous terrorist."
Tim Pawlenty: "This is terrific news for freedom and justice. In the hours after the 9/11 attacks, President Bush promised that America would bring Osama bin Laden to justice -- and we did. I want to congratulate America's armed forces and President Obama for a job well done. Let history show that the perseverance of the US military and the American people never wavered. America will never shrink from the fight and ultimately those who seek to harm us face only defeat. Today, justice is done, but the fight against radical Islamic terrorism is not yet over."
12:05 p.m. National Journal's Matthew Cooper reports on what it all means:
The announcement took Washington by surprise and gave the Obama administration an extraordinary accomplishment--one that had alluded its Republican predecessor and one that comes just days after the president announced a new national security team composed of long time bin Laden hunters especially Leon Panetta, the CIA director, and Gen. David Petraeus, the commander of U.S. and international forces in Afghanistan who are due to change jobs with Petraeus heading the CIA and Panetta becoming secretary of Defense. If the CIA was the point of the spear in killing bin Laden, it can only enhance Panetta's credibility at the Pentagon when he is expected to arrive later this spring.

It was not immediately clear whether bin Laden's death would significantly stymie al-Qaida's already beleaguered operations or how the death would play throughout the Arab and Islamic worlds, whether it would be greeted to a fist or a shrug.

But it surely marked the end of a significant era in America's war on terror. The bin Laden death came eight years to the day after President George W. Bush famously declared "Mission Accomplished" in Iraq, a claim that his political enemies never let him forget as the war in Iraq dragged on and American casualties mounted.
12:01 a.m. The Altantic's Alexis Madrigal is heading to the scene outside the White House, where a crowd has gathered in echo of the one that mobbed the plaza in front of its gates on Election Night 2008. "Heard my first 'Wooop! We got him!!!' at 7th and L," he reports.
11:58 p.m. Former president George W. Bush has released a statement on the announcement praising the "momentous achievement":
Earlier this evening, President Obama called to inform me that American forces killed Osama bin Laden, the leader of the al Qaeda network that attacked America on September 11, 2001. I congratulated him and the men and women of our military and intelligence communities who devoted their lives to this mission. They have our everlasting gratitude. This momentous achievement marks a victory for America, for people who seek peace around the world, and for all those who lost loved ones on September 11, 2001. The fight against terror goes on, but tonight America has sent an unmistakable message: No matter how long it takes, justice will be done.
11:49 p.m. The president said the operation against bin Laden was launched today after a determination "last week" that the U.S. "had enough intelligence to take action."
"No Americans were harmed. After a firefight they killed Osama bin Laden and took custody of his body," he said.
11:35 p.m. Obama speaks. "The U.S. has conducted an operation that has killed Osama Bin Laden."
11:31 p.m. Afghan officials tell Al Jazeera English that Osama bin Laden's death "happened some time ago but took time to confirm." [Update 12:03 p.m. -- well, so much for the accuracy of Afghan officials.]
CNN's Nick Paton Walsh reports that Pakistani intelligence played a role in the operation against bin Laden. That's probably the biggest news here today.
11:29 p.m. The New York Observer tweets this picture of Obama, "Look at Obama's face when Seth Meyers made the joke about Bin Laden last night. Meme-creators, go to town."
11:20 p.m. A crowd outside the White House has just finished singing the "Star Spangled Banner."
11:12p.m. People chanting "USA! USA!" outside the White House.
11:10 p.m. May 1st is eight years to the day from President Bush's famed announcement of the end of major combat operations in Iraq while standing before a "Mission Accomplished" banner.
11:06 p.m. CNN is reporting that Osama bin Laden was killed in a mansion outside of the Pakistani capital of Islamabad.
Updated 11:02 p.m. CNN is reporting that the United States now has the body of Osama bin Laden. The news was first reported by Jill Jackson of CBS News and by the chief of staff to former Secretary of Defense Donald Rumsfeld.
President Obama is expected to address the nation sometime before 11:15 p.m. Members of Congress are being briefed in advance of the announcement and then the White House will hold a briefing for reporters after his remarks. You can watch his remarks live here.
We want to hear what you think about this article. Submit a letter to the editor or write to letters@theatlantic.com.