Newt Gingrich Doesn't Mind That Obama Stole His Slogan
The former House speaker was into "winning the future" years before the president adopted the slogan. But it's cool, his campaign says.
Little-known fact: When President Obama unveiled his new slogan, "Winning the Future," he ripped off Newt Gingrich.
In October of 2006, Gingrich registered a new political group with the IRS under section 527 of the U.S. tax code: American Solutions for Winning the Future. Since then, the group has operated as Gingrich's main political arm.
Then in his 2011 State of the Union speech, Obama unveiled "Winning the Future" as his new slogan. The White House uses the slogan frequently, and seems likely to keep using it as the 2012 reelection campaign heats up.

Gingrich still uses the catch-phrase, too, despite the president having co-opted it. In fact, he's using it to campaign against Obama. Here's the front page of Gingrich's presidential campaign website, Newt.org: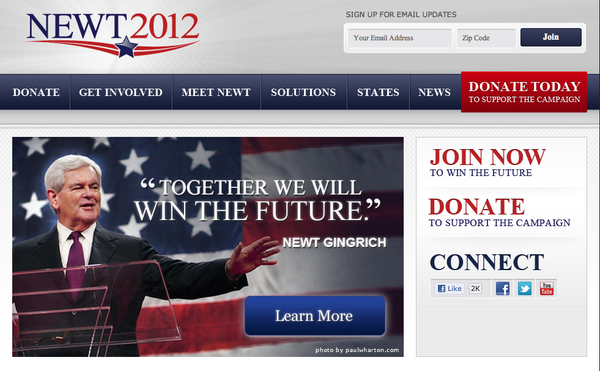 I asked Gingrich's 2012 campaign how the former speaker feels about Obama ripping him off so egregiously. Apparently he doesn't mind.
"We think it's great," spokesman Rick Tyler wrote in an email. "We intend to have a head on debate of whose policies will actually win the future and whose policies will lose the future."