New York-26 Special Election Tells Us What We Already Knew
Democrats will tout their win as a referendum on Medicare and a blueprint for 2012. Why the race offers no stunning revelation.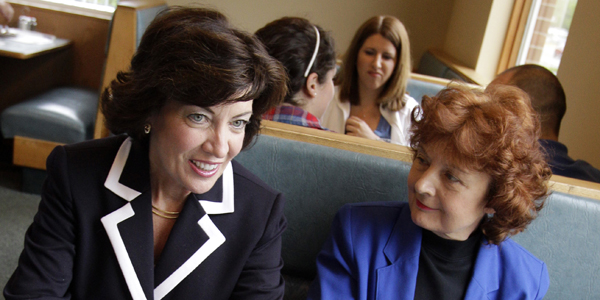 Democrat Kathy Hochul (left) talks to residents in New York's 26th Congressional District during a campaign stop Tuesday
Democrats are claiming victory in New York's 26th District special election, but, as a "referendum," the race can only tell us something we already knew: that Medicare will play a big role in national politics for the foreseeable future, and that Democrats will campaign heavily against the GOP plan to overhaul it.
Republicans had dominated the Buffalo district for almost a decade, representing it in Congress since 2004. The district voted twice for former president George W. Bush, and for John McCain in 2008. It was left vacant when former congressman Chris Lee (R) resigned from office in February, after he was caught posting shirtless photos of himself on Craigslist.
The Associated Press called the race for Democratic Erie County Clerk Kathy Hochul around 10 p.m., giving her 48 percent of the vote. Republican state Assemblywoman Jane Corwin had taken in 43 percent. Self-proclaimed tea-party candidate Jack Davis had taken in eight percent. Results may not be certified until later this week, after a court order obtained by Corwin's lawyers earlier Tuesday.
Medicare was the dominant issue in this race, as Hochul campaigned heavily on her opposition to the Ryan plan -- or, more accurately, on her opponent's support for it. Hochul ran multiple ads highlighting Corwin's stance on the Ryan budget, such as this one:
Before the results came in, Democratic strategists boasted that the race would be a referendum on Ryan's plan to overhaul Medicare and replace its fee-for-service system with direct payments to seniors to buy private health insurance, offering a blueprint for how Democrats can campaign against it.
Corwin, who did not back away from the Ryan plan, admitted on Monday that she could have confronted Hochul's attacks sooner, with a more forceful sale of her Medicare position.
Another factor in this race should not be ignored: Davis, the multi-millionaire founder of a heat-element manufacturing company, poured over $3 million of his own money into this race, and the eight percent he collected may have influenced the outcome heavily. All of that money was his, according to Federal Election Commission disclosures: Davis reported receiving no donations from anyone other than himself. Corwin and Republican groups were forced to devote attention and resources to attacking Davis, rather than Hochul.

Republicans will tout Davis as a main factor contributing to their loss. "The debate over whether Medicare mattered more than a third-party candidate who split the Republican vote is mostly a partisan Rorschach Test," wrote Jonathan Collegio, spokesman for the Karl-Rove-aligned GOP group American Crossroads, in an email to reporters shortly after results came in. His group spent over $1.1 million on the race, according to campaign finance reports compiled by the Sunlight Foundation, over $780,000 of it attacking Davis.
But the results mostly tell us what we already knew, regardless of whether Davis determined the outcome, or whether the Ryan Medicare plan handed Democrats a win.
Democrats were going to campaign against Ryan's Medicare plan anyway, and, in fact, they already have been. Democrats across the country have blasted the plan repeatedly since Ryan released it, emailing reporters to inform them of Republican presidential candidates' comments on it. And we already have an inkling that Ryan's plan can be a tough sell on the campaign trail, depending on how it's described. In a May 5-9 Associated Press/GfK poll, 54 percent said it's possible to balance the budget without cuts to Medicare, and Democrats retained a 21-percentage-point advantage over Republicans in handling Medicare. In an April 14-17 ABC News/Washington Post poll, 65 percent said Medicare should remain as it is today instead of converting to a voucher system.
The outcome in New York, it seems, will do a lot to bolster Democratic morale and provide Democratic operatives with a talking point about Ryan's Medicare plan. It will also teach Republicans to be proactive and craft their talking-points on Medicare carefully.
Image credit: David Duprey/AP
Drop-down image credit: AP