Mitch Daniels Is the Tea Party's Dream Candidate
Thanks to the dysfunctional conservative movement, they just don't know it yet
Thanks to the dysfunctional conservative movement, they just don't know it yet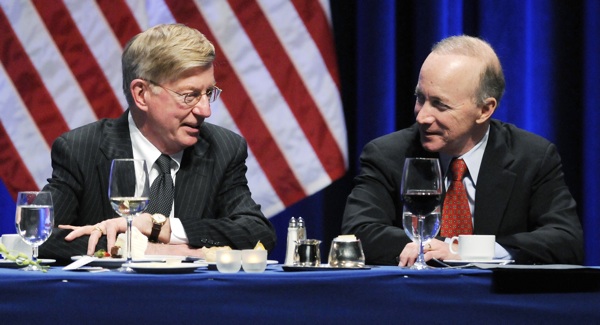 Everything is upside down in the Republican primaries. The GOP establishment is rallying behind a principled candidate with a proven conservative track record. That's upsetting the conservative base: on talk radio and right wing blogs, they concede that the man in question governs as a staunch conservative, but insist his candidacy isn't viable because he lacks charisma and electability.
What explains this bizzaro reaction to Indiana Gov. Mitch Daniels, who hasn't yet declared? Since when does the Inside the Beltway crowd need to sell the base on a conservative's electability? These are timely questions. Over the next two weeks, Daniels is going to decide whether or not to seek the GOP nomination. The perception of his candidacy is surely one factor he'll consider, along with his ability to raise funds -- he's gauging it -- and the media attention he receives next week when he visits Washington, D.C., to headline a Senate GOP fundraising dinner.
So, Republican primary voter, should you encourage Daniels to run, as Jeb Bush, Laura Bush, John Boehner, Haley Barbour, and many others have done? Or is he so flawed a candidate that he isn't worth your time, as his critics insist? It is evident to me that moderate and conservative Republicans alike would benefit from his candidacy. In a general election, libertarians like me would likely support him against President Obama. Furthermore, the arguments offered by his most staunch critics exemplify how the conservatism movement has betrayed its ideals. But perhaps you'll disagree. Let's delve deeper into Daniels' biography, his appeal to some Republicans, and the specific criticisms he suddenly faces so that you can make up your own mind.
Profile of A Hoosier  
 
The definitive profile of Mitch Daniels was written for The Weekly Standard by Andrew Ferguson, who capably captures the appeal of Indiana's penny-pinching, Harley riding governor. In his last gubernatorial election, he won more votes than anyone in Indiana history, including a majority of the youth vote and 20 percent of the black vote, unheard of numbers for a conservative Republican. In a recession he has made deep spending cuts and managed to retain approval ratings between 60 and 70 percent. And his achievements aren't merely political:
When Daniels took office, in 2004, the state faced a $200 million deficit and hadn't balanced its budget in seven years. Four years later, all outstanding debts had been paid off; after four balanced budgets, the state was running a surplus of $1.3 billion, which has cushioned the blows from a steady decline in revenues caused by the recession. "That's what saved us when the recession hit," one official said. "If we didn't have the cash reserves and the debts paid off, we would have been toast." The state today is spending roughly the same amount that it was when Daniels took office, largely because he resisted the budget increases other states were indulging in the past decade. No other state in the Midwest--all of them, like Indiana, dependent on a declining manufacturing sector--can match this record.

Impressive if you're a fiscal hawk, right? Daniels even has irresistible anecdotes that appeal to the belief that things would be better if common sense reformers would just cut the waste out of government. "In the early days of the administration he had a hunch that the government owned more cars than it could use," says Ryan Kitchell, a Daniels staffer. "Lieutenants were dispatched to the parking lots of state facilities to place pennies on a tire of each car. They returned in a month and if the pennies were still there, we said, 'Give us the keys.' " Adds Ferguson: "To save on paper, a study was made to find the narrowest type font. Most state newsletters, once printed in color, are now in black and white. The state no longer pays for employee business cards. Agencies that were discovered to be net-users of paper clips -- another study -- were put in touch with the revenue service, which had a surplus of clips sent by taxpayers with their tax forms."
More broadly, Daniels staffed Indiana's government with thrifty stars from the business world, ended collective bargaining for public employees, cut the overall tax burden, earned his state a Triple-A bond rating, cut the levels of public employees to levels not seen since the early 1980s, drastically reduced waiting times at the DMV, helped single mothers collect on child support, and improved the state's education system and transportation infrastructure. A progressive Democrat looking at his tenure would object to various Daniels policies. But a  Republican?
In the Hoosier state, even most independents are thrilled.
The Conservative Case Against DanielsIt's only fair to afford one of the most staunch Mitch Daniels critics an opportunity to have her say. Jennifer Rubin, a widely read conservative blogger recently hired by The Washington Post, has written numerous items going after the Indiana governor and denigrating his chances as a presidential candidate:


He's been a successful governor, implemented health-care reform that doesn't rely on forcing people to buy insurance they don't want, has a strong education plan and has won two statewide elections. In other words, his track record is nearly as good as Tim Pawlenty's. He is smart, articulate, good with facts and figures, and is, by any measure, a serious candidate. In his gubernatorial runs he proved to be a very effective, down-to-earth candidate that could relate to relatively non-ideological, middle-class voters, the very ones who will be up for grabs in 2012. He is solidly grounded in a limited-government perspective. He has been an outspoken opponent of cap-and-trade.

Wait, that isn't the relevant passage -- but yes, even his staunchest critics concede all that before getting to "the downside":
He seems to have gone out of his way to needlessly antagonize social conservatives with his "truce" talk and anger hawks, by embracing defense cuts and suggesting America should do less in the world. He appears overly eager to seek the advice of and incur the approval of non-conservative elites.

In this telling, he's an electable general election candidate who reliably implements policies conservatives love... but his rhetoric isn't to their liking! (And his fiscal conservatism extends to the Pentagon.) It isn't a very flattering portrait of the GOP base -- how much meaningless emotional coddling do they require to support a champion of their policies? Rubin adds that "he has indicated his receptivity to a value-added tax... And his tunnel vision on debt control, if adhered to in office, would wind up lacking focus on economic growth." That sums it up. From a conservative standpoint, Daniels isn't perfect on taxes, just much better overall than almost everyone else seeking the nomination, and his biggest flaw will be focusing too much on the issue the tea party regards as core to the survival of the nation. Is he the candidate for the hardest core social conservatives? Probably not. Despite talk of a truce on social issues, however, he seems a better choice by their lights than numerous other candidates in contention.
Other efforts by Rubin to discredit Daniels are even weaker. "The 2012 Republican presidential candidates and potential candidates are weighing in on the most significant development in the war on Islamic terrorism in years," she wrote after Osama bin Laden was killed. "The one noticeable exception? Indiana Gov. Mitch Daniels. I was surprised and e-mailed his staff. I received a one-word answer as to whether he had comment on the killing of Osama bin Laden: 'No.' This response does not strike me as one from a guy who envisions himself as commander in chief... Does he have views or even an interest in national security?"
Apparently, instructing a press aide to release a statement affirming the desirability of bin Laden's death is what demonstrates a candidate's interest in national security and ability to lead the Armed Forces. Is it even possible to imagine a sillier instance of imputing great import to meaningless rhetoric (or its lack)? Never have inconsequential words meant so much and actions so little.
Then there's the fact that Daniels actually does get quite fiery at times. "In his rapturously received speech at this year's CPAC conference, the most closely watched venue for potential Republican presidential candidates, he vividly compared the 'Red Menace' of fiscal indiscipline to the twentieth-century communist threat," Ed Kilgore points out in The New Republic, "a clever metaphor, since anti-communism is universally remembered as the glue that kept together the various wings of the conservative movement during its decades-long rise." As Newt Gingrich continues to take heat for expressing opposition to Paul Ryan's agenda, it's also worth revisiting this passage from Kilgore's piece:
Daniels' fiscal-hawk bona fides come at the high price of excessive specificity in his support for radical changes in government that garner little or no public support. For instance, most of the 2012 presidential candidates have given the more incendiary provisions of Paul Ryan's budget a wide berth. Mitt Romney, for example, told donors he wasn't sure the country was ready for the kind entitlement changes Ryan was talking about, and others tersely indicated they'd be preparing their own budget plans. But Daniels, on the other hand, has gone out of his way to praise Ryan's Medicare proposal as exactly the right way to head.

Strangely, the conservatives who oppose Daniels by arguing he is unelectable aren't establishment types looking toward a general election -- they're hard core movement types like this guy at Red State:
Mitch Daniels, by all accounts, was a very good governor of Indiana. By all those same accounts, he is very bad at understanding what it takes to build a coalition that could win a national election. In another candidate, this shortcoming would not necessarily be fatal. But let us face facts: Mitch Daniels is short, bald, and boring, and he is running against the Central Casting President. Winning over the marginal voters who tend to decide United States Presidential elections is going to be an uphill task for someone like Daniels, who is infinitely less telegenic than even Bob Dole. More than any other potential candidate in the GOP field, he will require a dedicated and fanatical army who will be able to bypass the media/television-induced fog that doomed Dole against Clinton and Nixon against Kennedy and spread the word to their friends and neighbors about why he would be a great President.

It seems to me that Mitch Daniels would be one of the most effective folks in the Republican field at winning positive press from mainstream media types and winning independents - and when he was criticized on the Rush Limbaugh show, the Indiana conservatives who called in to defend him were both dedicated and fanatical. Even if the Red State analysis were accurate, however, it would amount to an admission that the conservative base lacks the maturity to get behind candidates who'd be effective at governing as conservatives if they don't pander in their campaigning. Admittedly, that doesn't seem far-fetched, given previous tea party support for Sarah Palin, whose policy accomplishments are thin, and mostly consist of raising taxes on oil companies, bipartisan deal-making, and opposing intra-Alaskan ethics violations. She talks the talk. Across an alarmingly broad swath of the movement right, that's enough.
Rot in the Movement

Mitch Daniels first came to my attention through Peter Robinson, a former Ronald Reagan speechwriter whose thoughtful writing often appears at Ricochet, a right-leaning site of commentary and conversation. (An extended conversation between the two men can be seen here.) "Our Man Mitch," he's long called him (Daniels has contributed to the site). Lots of folks at National Review, The Heritage Foundation, and other right-leaning institutions also appreciate that a President Daniels would be good for the conservative movement, and some of them have publicly said as much.
Unfortunately, the vast majority of conservatives are reluctant to argue -- even respectfully -- with Rush Limbaugh, Mark Levin, Fox News Channel personalities, and other conservative entertainers who've denigrated Daniels, often in unfair and factually misleading ways. Doing so might divide the movement when it needs to focus on Obama, they tell themselves, and some surely think, "These radio guys are powerful and willing to play dirty -- why get on their bad side?" Perhaps Daniels or Pawlenty or a candidate like them will prevail anyway. John McCain's 2008 victory proved that GOP primary voters don't just go along with whatever Limbaugh and his copycats say.
Alternatively, the talk radio right (and neocons who want to expand America's global footprint no matter the cost) might succeed in keeping Mitch Daniels out of the race, and elevating a Sarah Palin or Michelle Bachmann -- candidates who flatter them, make them feel important, and calm their intellectual insecurity at every opportunity. The irony is that this time, if the conservative movement prevails over the establishment, it won't be to put a more substantively conservative candidate before the people -- what they'll have succeeded at is the most absurd elevation of style over substance in memory, and the nominee that results will likely be less reliably conservative and alienating in a way that makes them less likely to actually beat Barack Obama.
Thus your choice, GOP primary voter: Do you want a nominee who'll zealously shrink the size of government and address the deficit if elected? Or a nominee whose verbal attacks on liberals feel cathartic? "The underlying theory behind the talk radio critique of Daniels is basically that you can't trust a man who disarms liberals with his seeming reasonability, and what you need instead is somebody who takes the fight to the left at every opportunity," Ross Douthat writes. "This is an excellent description of the qualities required ... to be a good talk radio host. But when applied to the presidential scene, it amounts to a kind of politics of schadenfreude, in which actual conservative accomplishments count for nothing, the ability to woo undecided voters is downgraded or dismissed, and all that matters is how much a prospective candidate irritates liberals."
Put another way, today's conservative entertainers are selling out their professed beliefs for an emotional high and a ratings boost -- and perhaps with the realization that effective conservative governance, achieved without intellectually dishonest bombast, is an implicit repudiation of their whole worldview. Tea partiers, many of whom revere talk radio, are being misled into thinking that Daniels isn't a desirable conservative candidate. If they are earnest in what they say about America's fiscal situation, however, a Daniels Administration is the best triumph for which they can reasonably hope.
Image credit: Reuters