The president returns to his ancestral roots in Moneygall, but volcanic ash abbreviates his stay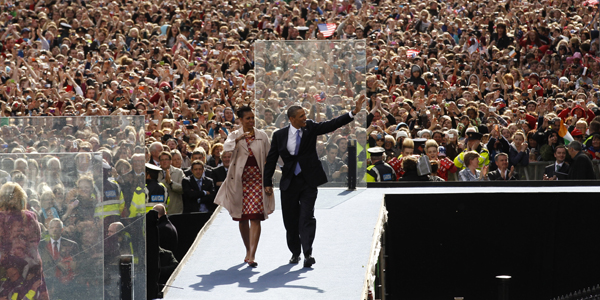 One hundred and sixty-one years after shoemaker Falmouth Kearney left Moneygall, Ireland, for a new life in Ohio, his great-great-great-grandson returned on Monday to the hamlet in County Offaly as the president of the United States, having a little fun and giving some hope to his distant "cousins" suffering through economic hard times.
A village of 300 on the road from Dublin to Limerick, Moneygall welcomed President Obama as one of its own, wildly cheering from the moment Marine One landed. Even before Obama arrived, many helped to popularize the Corrigan Brothers song that became a viral hit after the campaign, "There's No One as Irish as Barack Obama."
---
MORE FROM NATIONAL JOURNAL:
Who Benefits Now That Daniels Is Out?
Can Pawlenty Seize the Opening?
Scott Brown to Oppose Ryan Medicare Plan
---
Unfortunately for the Irish crowds and the merchants hawking souvenirs of the presidential visit, Obama will depart Ireland a day early--a precautionary measure taken because of the ash cloud being dispersed by a volcano in Iceland. The decision to speed up the presidential departure was announced by the White House on Monday evening, Dublin time. Just over a year ago, another Icelandic volcano spewing ash, forced a shutdown in transatlantic air travel.
But on Monday, though, Obama basked in the adoration of the Irish. Thousands lined the street in Moneygall, waiting for more than three hours in heavy rain, hail, and a strong wind. The estimated crowd of 25,000 was rewarded when the president took time to walk the rope line and shake hands in what may be the only time in his six-day, four-nation trip that he mingles with the European public.
John Donovan, a shopkeeper and funeral director who owns what has been declared the president's ancestral home, promised reporters that he had the place "spic and span" for their famous guest. But he added, "I am so nervous, I can't talk."
Asked if he would serve tea to the president, he responded, "I think he's more interested in a pint."
Of course, no visit to Ireland can be complete without a pint in a pub, and Obama met that test, popping into Ollie Hayes's Pub on Main Street. Ever since the 2008 presidential campaign, the pub has been adorned with Obama memorabilia--perhaps more than can be found in any bar anywhere in the world.
Campaign posters line the wall near the fireplace; a painting shows Obama hoisting a pint of ale; a sign proclaims Moneygall as the "Irish Ancestral Home of Barack Obama"; and a bumper sticker proclaims in Irish "Obama Abu," which translates roughly to "Hooray Obama" or "Obama forever."
Majella Hayes, who owns the pub with her husband, Ollie, also designed a T-shirt with their son, Billy. On sale for 10 euros ($14.38), the shirt shows a pint of Guinness and the text "O'Bama's Irish Pub"--with a shamrock for the apostrophe between O and B.
Perhaps the most impressive piece of Obama memorabilia is the large metal bust of the 44th president that occupies a place of honor on the bar. "Americans started coming here after he was elected," Majella told National Journalrecently as she was taping a sign on the wall that said, "Irish Visit 2011. Beautiful Ireland Welcomes President Obama." It showed a map of Ireland with a large red dot in the center marking the location of Moneygall.
Surrounded by all this, the president seemed at home. He was overheard telling one man, "You look a little like my grandfather." To those inside, Obama said, "What a thrill it is to be here. There are millions of Irish-Americans who trace their ancestry back to this beautiful island."
When he finished talking, Obama said, "And with that, let me have a pint." After being cheered for taking the first swig of his pint of Guinness, Obama announced, "I just want you to know the president pays." The normal price of a pint of Guinness is 3.75 euros. He finished at least three quarters of the pint.
Ollie Hayes was thrilled to be hosting the president. "A presidential visit is just the greatest thing to imagine," he said in a recent interview. The visit isn't just good for business, he said--it is also good for the spirits of the Irish people who have been hard hit by their debt crisis. "Things are bad, but not as bad as people think," he said.
There was little doubt, though, that the locals hope this visit pays off in more visits by American tourists willing to leave their dollars behind. "That's what it's all about," said farmer Richard Wallace, 49.
Although European exuberance has diminished since his election, Obama remains very popular in Ireland. "His message still has an enduring quality to it which will resonate very warmly and very well, particularly with younger people," said Michael Collins, the Irish ambassador to the United States. The visit, he told NJ, "does capture in a very, very special way that unique relationship that I really do believe we have with America."
Obama's success, he continued, is "a story of improbable success and Irish legend, and within the Obama story is the story of the Irish people. Courage, adaptability, and overreach."
Image credit: Kevin Lamarque/Reuters