In New York 26, Democrat Could Beat Self-Funders
The Republican candidate and the tea-party wildcard have each poured millions of their own money into the New York 26 special election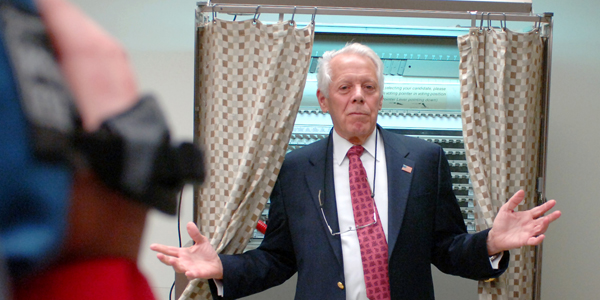 With polls opening today in the race to replace former congressman and Craigslist cruiser Chris Lee (R), Democrat Kathy Hochul appears poised for an upset victory in New York's Republican-leaning 26th Congressional District.
Recent polling by Siena College shows Hochul, who serves as Erie County Clerk, narrowly leading Republican state Assemblywoman Jane Cowrin by four percentage points. Earlier polling in the race had shown Corwin ahead.
Hochul has been helped into the lead by tea-party millionaire businessman Jack Davis, who has siphoned votes away from Corwin. (Davis collects 12 percent of the vote according to Siena.) The race is also being cast by some as a bellwether for public opinion on the Paul Ryan Medicare plan.
Republicans are already spinning a prospective loss for Corwin. Jonathan Collegio, a spokesman for the Karl-Rove-aligned Super PAC American Crossroads, wrote an email to reporters on Friday arguing that the race was competitive mostly because of Davis's presence:
I'm not sure what the overarching meaning is there, other than that some older men are willing to spend vast amounts of treasure pursuing inexplicable ends. No one doubts that the 2012 environment is different from what it was in 2010, where Republicans were able to win elections without even running campaigns. A head-to-head would be more difficult now than it was six months ago. But let's not be silly and ascribe deep ideological meaning to an atypical three-way House race in upstate New York.
As Slate's Dave Weigel points out, that's unusually early for such doom-and-gloom expectations-setting.
Collegio has a point, though. With a well-funded campaign, Davis has managed to capture more than enough votes to alter the course of the race, drawing significant outside interest and possibly handing a Republican seat to Democrats.
It's the same thing we saw in the state's 23rd District in 2009, when tea-party candidate Dough Hoffman disrupted GOP momentum and Democrat Bill Owens won. Except it's also the opposite, as conservative groups didn't rally around the so-called tea-partier this time.
Davis and Corwin have poured millions into their campaigns. That makes it all the more improbable that Hochul has taken the lead in this district, which supported John McCain over President Obama by a margin of eight percentage points in 2008 and which Cook Political Report has rated at R+6 based on past voting trends.
Davis hasn't just self-funded in the nominal sense. He has not actually reported receiving donations from anyone other than himself. That's right: According to Davis's Federal Election Commission paperwork, 100 percent of his campaign's donations have come from his own personal bank account. Davis has given himself just under $3.12 million -- and projects to spend exactly that much, plus any last-minute checks he decides to write to himself. As of early May, he had gone over-budget by about $100,000, reporting his campaign as being in debt. Now in his late 70s, Davis co-founded a company that manufactures heating elements in 1964.
Republican and tea-party groups have been trying to knock Davis down, or possibly out, out of the race. The Tea Party Express, known for identifying fiscally conservative candidates and funneling national tea-party money into races across the country, has called Davis an impostor. "Given Davis' past support for big-government liberals, it is extremely likely that he is running under the 'Tea Party' name purely to confuse and deceive voters, in an effort to split the conservative vote and help a Democrat win the seat," the group wrote in a May 13 press release.
While outside money has been a big factor, a plurality of it has been spent by typically GOP-aligned groups in opposition to Davis, according to the Sunlight Foundation. The National Republican Congressional Committee, the National Rifle Association, and American Crossroads have accounted for almost all of the $787,000 spent against Davis by outside groups.
Corwin also has pumped her own money into the race. Having reaped a windfall when her family's company, Talking Phone Book, was bought by Hearst Corp., she's donated $2.76 million to her own campaign, which is on track to spend about $3.15 million in total -- roughly in line with what Davis will probably spend, according to the 48-hour financial disclosures their campaigns have failed with the FEC.
Hochul donated $250,000 to her own campaign but is on track to spend just over $1 million in total -- less than a third of what her competitors each will likely spend.
In another boon to Hochul, both Davis and Corwin were caught in a mutually destructive scandal when Davis slapped a video tracker asking him some aggressive questions. The tracker later turned out to be Corwin's chief of staff, leading to an obvious question: Why was a high-level staffer, rather than a campaign volunteer or field worker, pestering the lesser of his boss's two political opponents with a handycam?
Image credit: Don Heupel/AP