Huntsman Swings Through New Hampshire
Unknown in the state, the former Utah governor and U.S. ambassador to China will try to win support on his first trip there as a presidential candidate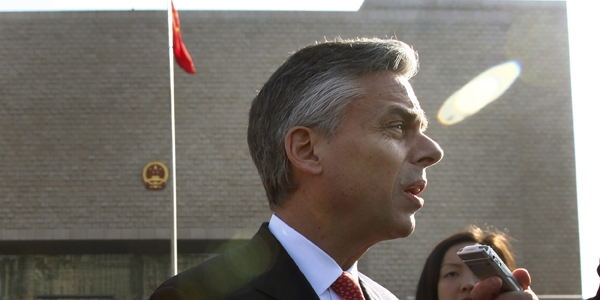 It's no accident that Jon Huntsman's first campaign swing as potential presidential contender, which begins on Thursday, includes a "photo opportunity-only'' stop at Robie's Country Store in Hooksett, N.H.
The click of a camera is all that's needed to invite the comparison to Jimmy Carter's first trip to New Hampshire in 1975. The store's former owner famously asked "Jimmy who?'' during the visit by the then little-known peanut farmer and Georgia governor who, through the dint of his shoe-leather campaign, went on to become president.
The Republican Huntsman, President Obama's former ambassador to China and the former governor of Utah, is also trying to capitalize on his stranger status in the state that hosts the nation's first primary. An announcement on a presidential bid is expected no earlier than mid-June.
---
MORE FROM NATIONAL JOURNAL:
Obama Walks Tightrope With Middle East Address
Strauss-Kahn Resigns
Top Chinese General Says His Country Is No Match for U.S.
---
"It's a smart political decision to set yourself up as the underdog, to cast yourself as the little guy in New Hampshire,'' said Andrew Smith, director of the University of New Hampshire Survey Center. "It's the standard trope of New Hampshire politics.''
The center's most recent poll found Huntsman favored by less than 1 percent of the state's residents--71 percent had never heard of him.
Huntsman is hoping to change that with a foray into the state stretching across five days, with made-for-television stops at VFW posts, locally popular restaurants, and a gun shop. He is also scheduled to deliver the commencement address at Southern New Hampshire University in Manchester on Saturday.
A return trip to the state is already planned for June 3, when he will address Republican activists on a boat cruise on Lake Winnipesaukee.
That's a home base for the putative GOP front-runner, Mitt Romney, who owns a house on the lake and leads in state polls. Romney and Huntsman, both Mormons, are expected to compete for donors in Utah.
"No one can claim any turf yet,'' said Huntsman spokesman Tim Miller. "He's going to be spending a lot of time in New Hampshire if he runs.''
Huntsman is also planting a flag in Florida, a reservoir of major fundraisers and the nation's largest swing state: He's planning to put his campaign headquarters in Orlando if he runs.
Romney fired off a warning shot at potential rivals like Huntsman with a Las Vegas telethon on Monday that raised $10.25 million. Huntsman, whose father made a billion-dollar fortune in the chemical industry, has said he will not finance his own campaign.
"Donors are still up for grabs, but every day there is increasing peer pressure from the Romney camp,'' said GOP fundraiser Ana Navarro, who hosted a breakfast for Huntsman in the Miami area but hasn't yet committed to any campaign.
New Hampshire, where independents are eligible to vote in the GOP primary, is likely to be more accepting of Huntsman's breaks with party orthodoxy than early-voting states dominated by religious conservatives like Iowa and South Carolina. Huntsman has backed civil unions for same-sex couples and a cap-and-trade system to curb climate-changing carbon emissions. But perhaps his biggest liability in a GOP primary is his employment by the Obama administration, until recently, as the ambassador to China.
Huntsman's plunge this week into retail politics contrasts with the aversion to the campaign trail demonstrated so far by other Republicans being urged to jump into the race, such as Indiana Gov. Mitch Daniels and New Jersey Gov. Chris Christie. Huntsman is slated to attend two forums showcasing presidential candidates: the Faith and Freedom Conference on June 3 in Washington and the Republican Leadership Conference June 16-19 in New Orleans.
It's unclear whether Huntsman will return to New Hampshire on June 13 for a debate sponsored by CNN.
Image credit: Petar Kujundzic/Reuters