Huckabee Ratings Dip After He Says He Won't Run
Viewership dropped off sharply immediately after the announcement, but the former Arkansas governor recovered this past weekend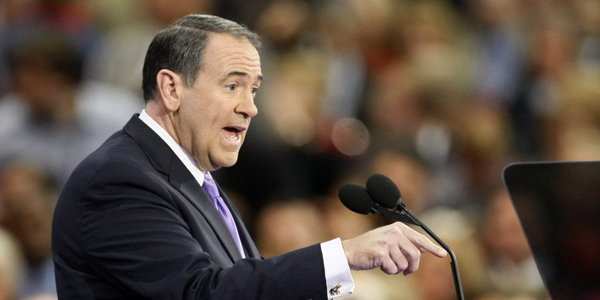 Mike Huckabee's TV viewership dropped off sharply immediately after he announced he wouldn't run for president, but the former Arkansas governor recovered this past weekend.
Huckabee made the announcement in a widely-viewed episode of his regular Fox News talk show, "Huckabee," on Saturday, May 14. His show airs Saturday and Sunday between 8 p.m. and 9 p.m.
The announcement episode drew more viewers than any other "Huckabee" show this year, with the Nielsen Company estimating 2.213 million viewers, following a Friday tease by Huckabee's producer that the former Arkansas governor would announce his intentions on the Saturday show. But then viewership dropped off: Huckabee's Sunday, May 15, show drew fewer viewers than all but two of his previous airings in 2011, according to Nielsen, with just 889,000 people watching.
His next two shows, this past weekend, performed better, drawing 1.366 million viewers on Saturday and 1.015 million on Sunday.
Huckabee rode his 2008 presidential campaign to fame, and part of his draw, since then, has involved the possibility that he would run again. Huckabee polled well against other potential 2012 candidates, and he was thought to have retained a strong base in Iowa. It's yet to be seen how much of his appeal involved the possibility of another run, and thus how much of that appeal has now vanished.
On average, he's seen a slight drop in viewership since the announcement.
In the three shows since then, he's lost about 47,000 viewers on average when compared to his airings in 2011 before (and not counting) the widely-viewed announcement show. Before the announcement episode, Huckabee averaged 1.137 million viewers per episode. Since, he's averaged 1.09 million.
Here's a chart of Huckabee's viewership in 2011, with estimates provided by Nielsen. The low point came on Feb. 6, when he attracted 406,000 viewers.