Honor the Troops by Hiring Them
The unemployment problem facing young veterans demands this country's immediate attention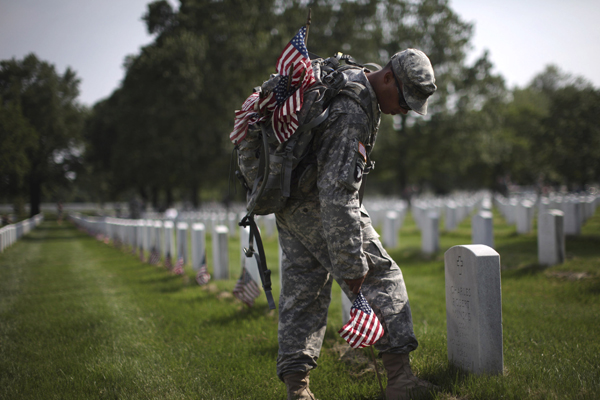 Bin Laden was dead and I knew I had to be at Ground Zero.
I wasn't the only one. Hundreds of people, a crush of New Yorkers, tourists, college students, 9/11 first responders, and young Iraq and Afghanistan war veterans, gathered there on an otherwise quiet Sunday night. The atmosphere was respectful and solemn, as far as celebrations go. But while I welcomed the bin Laden news as much as the cops standing next to me did, I felt caught in a sudden turning point: Americans, right before my eyes, were celebrating and closing the book on the wars in Iraq and Afghanistan. I felt numb. My mind shifted to the many thousands of troops still deployed overseas. I thought about the hurdles so many of them would face coming home. Most of all, I thought about the men and women who had never come home and never lived to see this moment.
While our troops remain in harm's way overseas, the true impact of the wars is just starting to be felt at home. Veteran suicide rates continue to skyrocket, and vet homelessness -- historically, only a major issue decades after a war ends -- is rearing its head in shelters across the country. But it's the unemployment problem facing young vets that really demands this country's immediate attention.
This is the postwar battle that Donna Bachler fights right now.
Donna deployed with the U.S. Army in support of Operation Iraqi Freedom and Operation Enduring Freedom. She left the Army as a first lieutenant, but not before suffering a serious leg injury. She uses a cane to get around and has been diagnosed with Post-Traumatic Stress Disorder. Despite years of experience in both the fitness and administrative industries before and during her military service, she now finds that prospective employers view veterans as potential liabilities.
"All they see is a hospital day count, not understanding how dedicated to work the military makes you," she says. "As soon as I walk into an interview with a cane, the interview is essentially over." Donna has taken to picking up freelance opportunities on the web so employers can't discriminate against her physical injury. Recurrently unemployed, this wounded warrior who once worked as a personal trainer and ran her own fitness boot camp can't find steady work because of societal failures, not her own. And her story isn't rare.
The Department of Labor reported in April that 10.9 percent of Iraq and Afghanistan-era veterans are currently unemployed, a full two percentage points higher than the national average. An internal survey of IAVA members suggests that number is actually much higher at 20 percent. By now, it's well known that the veterans of this generation won't be getting a welcome-home parade. Most have come to accept this after 10 years. But it's a travesty that so many are coming home to an unemployment check.
These numbers show that employers are shying away from hiring veterans. Sometimes, years of military training and certificates don't perfectly translate to a civilian marketplace. Other times, if that candidate is still in the National Guard or Reserves, the employer cites concerns about future deployments. And still other times, it's that tired old stereotype of the crazed vet afflicted with PTSD.
IAVA's goal is to lower the high unemployment number by Veterans Day, and we need help. There are two components -- the public and the private. First, Congress needs to stop bickering and do its job. They must pass legislation that requires transitional assistance for all service members leaving the military, strengthens the Uniformed Services Employment and Reemployment Rights Act (USERRA), and creates tax incentives for employers that hire veterans. But government can only do so much in creating a hiring environment friendly to veterans.
The private sector is where jobs will come from. So it's time for the Fortune 500 to do their part for America. The number of unemployed Iraq and Afghanistan vets is less than 300,000. That's a totally scalable number. Companies that have the foresight to hire vets won't just be capitalizing on national goodwill, they'll be investing in dynamic, tech-savvy men and women who don't quit. JP Morgan Chase, for one, has answered the call, having pledged to hire 20,000 military veterans by the end of 2012. But we need much more. Every company in America must make a commitment to hire veterans.
The ugly truth is that one man's death cannot bring back those we have lost. Nor will it end these wars. Almost 100,000 U.S. troops remain in Afghanistan, and last month was by far the deadliest April in the decade-long war. Forty-six troops gave their lives. And Iraq? A lot of combat still seems to be going on in a "non-combat operations" environment. Try telling the families of the 22 Coalition Force members killed there this year that no more combat is occurring. No, these wars aren't over, and won't truly end until long after any withdrawals and declarations. Parades, yellow ribbon bumper stickers and speeches from the White House are nice, but they're not enough.
This Memorial Day is a time to honor all those who gave their lives in defense of our nation. One way we can honor their legacy is to invest in their brothers and sisters in arms who served alongside them. Hire one. Hiring a veteran is good for America, and it's good for business. Remember that tremendous feeling of pride we all felt when we heard the bin Laden news and carry it over into something practical and lasting. You won't regret it.
Image credit: REUTERS/Jason Reed
Drop-down image credit: Reuters