Hillary Clinton's First Dig at China—in 1995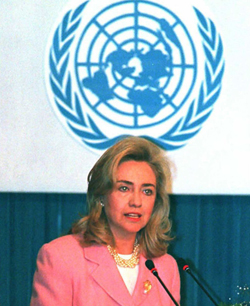 Hillary Clinton's
tough talk about China
is striking, but not surprising.
While her professional political career dominated by America's 21st century wars -- the senator from New York during 9/11, a prominent vote in favor of invading Iraq, the secretary of State handling Afghanistan and Pakistan -- Clinton's first major foreign policy foray was in China.
In 1995 she traveled to a U.N. conference on women held in Beijing. In front of an audience of U.N. guests, international reporters, and government officials Clinton aimed at China in the crescendo of her speech.
"It is time for us to say here in Beijing, and for the world to hear, that it is no longer acceptable to discuss women's rights as separate from human rights," she said.
In her autobiography, Clinton said the goal of her trip was: "pushing the envelope" by being clear about the "injustice of the Chinese government's behavior" toward women. The government, Clinton wrote, had forced NGOs who supported women's causes like prenatal care to microlending to meet 40 miles away from the U.N. conference.
"Although I didn't mention China or any other country by name, there was little doubt about the egregious human rights violators to whom I was referring," Clinton wrote about her speech.
Later Clinton described how her words have followed her around the world.
"To this day, whenever I travel overseas, women come up to me quoting words from the Beijing speech or clutching copies they want me to autograph," she wrote.
Above: Clinton making her speech to the UN Fourth World Conference in Beijing on September 6, 1995. Getty Images.