Air Force One Lands on Second Try
Weather prevents the plane's first attempt, but the president touches down safely after circling a runway in Connecticut
Weather prevents the plane's first attempt, but the president touches down safely after circling a runway in Connecticut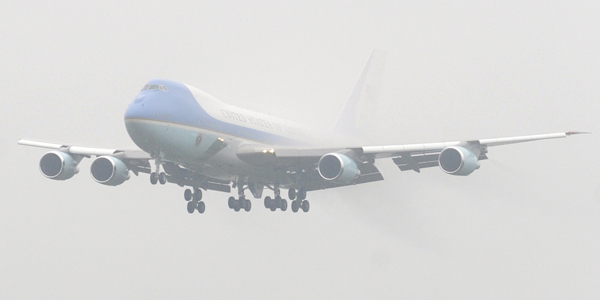 Bad weather forced Air Force One to circle Bradley International Airport in Connecticut on its first landing attempt this morning before safely touching down on the second try, White House spokesman Nick Shapiro confirmed to reporters aboard the aircraft.
The plane was carrying the president to New London, Conn., where he delivered a commencement speech at the United States Coast Guard Academy.
---
MORE FROM NATIONAL JOURNAL:
Top Cybersecurity Official Resigns
Gingrich Apology Caps Tough First Week as Candidate
Sanctions Against Assad Won't Have Much Bite
---
"The pilot was in the process of landing, but due to weather the pilot decided to circle around and then landed the plane. This is a standard and safe procedure," Shapiro said.
Pool reporter Linda Feldmann of the Christian Science Monitor noted that the sky was overcast and a light rain was falling.
National Journal's Marc Ambinder was monitoring aviation frequencies when the incident occurred and wrote the following account off of notes:
The airport was landing planes in instrument conditions. It had turned on a localizer beam that, when "caught" by a plane's radio receivers, can direct it toward the center of the runway. Additionally, a glide slope beam provided vertical cues.
An approach controller asked Air Force One if they'd "intercepted the localizer."
"Affirmative."
"Contact the tower," he said, giving the pilot the frequency for Bradley.
The facility was shut down, save for a helicopter full of police and Secret Service agents that was hovering at the far end of the runway. Ground maintenance and baggage vehicles were frozen in place.
A few minutes after the tower had given Air Force One its landing clearance, the pilot didn't seem to like the plane's vertical position relative to the runway.
"Uh, Tower, Air Force One. We'll need to go around," he said.
The tower controller instructed the president's plane to maintain its height -- 5,000 feet -- and vectored it into a wide circle around the airport. The procedure is common; all runway approaches include a "go-around" diagram.
The approach controller wanted to make sure that this time, the enormous Boeing VC 25 had enough room to execute its "base leg" turn and start back toward Runway 6.
"Do you have enough room?" he asked.
"We can make the turn," responded the AF 1 pilot.
About four minutes later, Air Force One was on the ground.
Image credit: Jessica Hill/AP