Why L.A. Hates Presidential Visits
Obama is attending a fundraiser on the West Side today -- and millions of people will spend two extra hours in their cars as a result
Obama is attending a fundraiser on the West Side today -- and millions of people will spend two extra hours in their cars as a result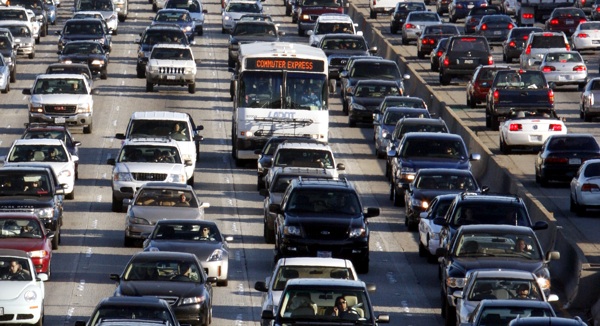 President Obama is scheduled to land at LAX at about 2:45 P.M. Thursday. He then has to get to the Sony lot for a 4:30 fund-raising appearance, then up to Tavern in Brentwood for dinner and another fundraiser. He's staying overnight in the L.A. area -- they don't announce where, but at least some of the previous overnights have been at the Beverly Hilton. The city is advising that the traffic impacts should extend from 3 p.m. to 8 p.m. ~ LA Observed

My colleagues in Washington, D.C,, are accustomed to local traffic being disrupted now and again for presidential motorcades. It's a price of living in the nation's capital, and there's always the chance that POTUS is on important business. But I can't help but being miffed at news that Obama is going to disrupt life for millions of Angelenos today so he can raise campaign money. And I'm not alone.
Says Mickey Kaus, a fellow Venice resident:


I suppose there is no way President Obama can lose California in 2012. But he's giving it a shot tomorrow-attending two fundraisers that, with the usual level of presidential security, promise to immobilize the West Side of Los Angeles during evening rush hour... It became evident when George W. Bush visited a few years ago that presidential travel to West Los Angeles is akin to a small natural disaster. It doesn't take much to cause the area's strained highway system to tip into paralysis.

Put another way, it doesn't take much more than 4 p.m. rolling around. That's when I left home Tuesday to drive 12.1 miles to a movie screening that The Atlantic hosted in West Hollywood. How long did it take me to get there? 75 minutes. And there weren't any accidents, let alone road closures. Lucky me, I work from home, and mostly avoid this sort of thing by never going anywhere at rush hour under any circumstances. Visiting friends on the East Side, better to drive across town at 2 p.m., work for five hours in a coffee shop, and then walk a few doors down to wherever you're meeting for dinner.
But most people are forced to drive. Today they're going to get home two hours later than usual. Burn through extra $4.30 per gallon of gasoline. And get very angry watching the bumper in front of them while listening to Jon and Ken, kings of L.A. drive-time, complaining about President Obama, and taking phone calls from listeners in their cars who are even angrier. Were Obama coming to Los Angeles in order to visit the Jet Propulsion Laboratory or meet with the leader of Japan, that would be one thing. But attending two fundraisers? At rush hour, on a weekday? In West L.A.? Is there any conceivable event in America that would inconvenience more people?
Says the LA Times: "The president is scheduled to depart from LAX about 9 a.m. Friday, at the heart of the morning commute."
Perfect.
Image credit: Reuters/Lucy Nicholson