What's an Exploratory Committee?
Major candidates are announcing these pre-campaign organizations left and right. Here's what they are.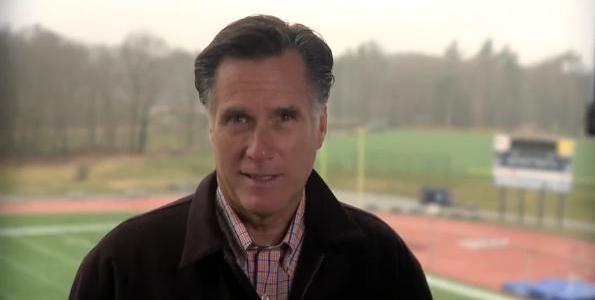 Former Massachusetts Gov. Mitt Romney announces his presidential exploratory committee in a YouTube video on Monday
On Monday, a determined-looking Mitt Romney looked straight to the camera in a YouTube video recorded at a New Hampshire college football stadium and proclaimed: "I am announcing my exploratory committee for the presidency of the United States."
It was a firm statement that probably left many wondering just what the hell he was talking about. The announcement of an "exploratory committee" isn't quite as thrilling as an announcement of real candidacy -- or as clear.
Mitt Romney and Tim Pawlenty have their own 2012 presidential "exploratory committees," both announced within the past month. So do former Louisiana Gov. Buddy Roemer and a guy from Alaska named George Cooper. Former Pennsylvania Sen. Rick Santorum announced Wednesday night that he'll form one too. Newt Gingrich announced the same in early March. "I'm thinking about it," they all seem to have said. "And now I have some kind of organization."
Which, naturally, raises the question: Just what is an "exploratory committee"?
For one thing, exploratory committees do exist. It's been asserted in some corners that they don't exist, or that they're the same as regular campaigns. They aren't.
Romney, Pawlenty, Roemer, and Cooper have all submitted paperwork and filed exploratory committees with the Federal Election Commission (FEC). Their exploratory committees are recognized by the FEC as such -- different from* campaign committees, PACs (political action committees), and 527 political committees: all different types of organizations that report to the FEC under different rules and abide by different, though generally similar, restrictions and fundraising limits.
Exploratory committees, according to the FEC, are organizations that support a candidate who is considering a run for office -- in campaign-law parlance, one who is "testing the waters" of candidacy.
The functional difference is this: An exploratory committee doesn't have to report its finances to the FEC, whereas a campaign committee does. Until a campaign is official, the exploratory committee goes unscrutinized.
Exploratory committees can raise and spend money to fund preliminary, "testing the waters" activities like polling, travel, or phone calls. During that phase, the exploratory committee must adhere to the same restrictions as a regular campaign, including a $2,500 per-donor, per-election fundraising limit and a ban on corporate and union donations.
In that regard, exploratory committees work just like regular campaigns, while looser rules apply to the independent political-advocacy groups chaired by would-be candidates.
All the major -- and even the minor -- assumed presidential candidates already have independent political organizations, which they use to travel and conduct political advocacy (allegedly) unrelated to their presidential aspirations. Pawlenty has his Freedom First PAC. Romney has his Free and Strong America PAC. Gingrich has his American Solutions. These groups serve as less-regulated vehicles to raise these contenders' political profiles before campaign season, outside the confines of stricter financial limits. Gingrich's 527 group American Solutions, for instance, took in uncapped donations (to the tune of $13.7 million in 2010), including some from corporations.
But PACs, 501(c)4s, and 527s are not allowed to support a candidate who's "testing the waters" or running. American Solutions, Gingrich's 527, can't pay for Gingrich's to have lunch with a hot-shot political operative for the purpose of feeling him out as a possible campaign manager. It's illegal because the lunch-money was raised outside the law that binds Gingrich as a waters-tester, as opposed to a 527 advocate.
Gingrich's exploratory committee -- which he does not appear to have registered yet with the FEC -- can't take in uncapped donations. But it can, for instance, pay for that lunch.
A prospective candidate can use an exploratory committee -- and thus avoid reporting finances -- until he/she becomes an actual candidate who has raised more than $5,000 since he/she began testing waters. A would-be candidate becomes a real candidate,
according to the FEC
, when he or she:
• Makes or authorizes statements referring to him/herself as a candidate;
• Uses general public political advertising to publicize his/her intention to campaign;
• Raises more money than what is reasonably needed to test the waters, or amasses funds to be used after the candidacy is established;
• Conducts activities over a protracted period of time or shortly before the election; or
• Takes action to qualify for the ballot.

Once any of those things happen, the campaign is officially on. The candidate must register anew with the FEC, transfer all of his/her exploratory-committee money into a campaign account, disclose all of it to the FEC, and start filing regular disclosures, according to FEC candidate guidelines and an FEC spokeswoman.
(Tim Pawlenty, one could argue, may have run afoul of that distinction when he 
told
 CNN's Piers Morgan recently, "I'm running for president" -- a statement that seemed to preempt the formal announcement, which, he mentioned in his next breath, had not yet been delivered.)
If the would-be candidate never becomes a real candidate, the FEC never sees the exploratory committee's records.
"If you test the waters and then never announce, we're never going to see it if you haven't registered with us," FEC spokeswoman Mary Brandenberger said.
So, it's a nominal distinction. An exploratory committee supports a potential candidate who's considering; a campaign committee supports a candidate who's running.
Functional differences are so slim that we might well ask: Why form an exploratory committee at all?
No one is required to, and a would-be presidential candidate can test the waters just fine without one. "It's not required that anyone register an exploratory committee with the commission. ... You can decide to run and then have a presidential campaign committee -- there can be a time when you don't have an exploratory committee," the FEC's Brandenberger said.
Would-be candidates can use separate bank accounts to pay for waters-testing, as campaign law defines it, instead of forming an exploratory committee, if they choose.

Forming an exploratory committee simply places things under a new banner. You can put your existing political staff on a new payroll, for instance, and set them to work planning debates, talking to the media more openly about your political plans, hiring more staff, and campaigning for you mostly unfettered -- things they couldn't do while working for a PAC. And when they make phone calls, they can say, into the receiver, "I'm from Mitt Romney's exploratory committee" -- and not, "I work for Mitt Romney, usually for his PAC, but today I'm being paid from a separate bank account, so let's talk freely about 2012."

Pawlenty, for instance, has hired several new staffers since announcing his exploratory committee, including a campaign manager, Nick Ayers.

If you're looking to gain some momentum before your formal announcement, in the hopes of making a bigger splash -- and you want to keep records organized under a registered committee with a name -- an exploratory committee is a good, but not really necessary, way to go.

The minute you say you're running, though, the no-disclosure honeymoon is over. You have to tell the FEC how much you have, where it came from, and how you spent it -- whether it was raised by your "exploratory committee" or just by some guys you're paying, which is basically the same thing.

You're a candidate now, in the eyes of the law, and you'd better stop exploring and start asking for votes.


*The FEC codes exploratory committees under the same designation as presidential campaign committees in its online database -- "P (Principal Campaign Committee of a Candidate)" -- but an FEC spokeswoman made clear to The Atlantic that there is a difference, and that the FEC treats exploratory committees differently for disclosure purposes.