Trump's Birther Antics Are Driving Away His Liberal Audience
He may be dumber than you think: Exclusive research reveals "Celebrity Apprentice" viewers are the most Democratic in primetime TV.

He may have gotten President Obama's attention, but Donald Trump's presidential candidacy is presumed by most people to be a stunt designed to goose ratings for his television show, "Celebrity Apprentice" on NBC. But while Trump has gotten plenty of airtime by suggesting, wrongly, that the president was not born in the United States, Nielsen rating for "Celebrity Apprentice" are lower than they were a year ago -- and dropping fast. One reason Trump's audience is abandoning him may be that, according to demographic research of primetime television viewers provided exclusively to The Atlantic by National Media Inc., a firm that places political ads on television, the audience for "Celebrity Apprentice" is among the most liberal in primetime television (see graphic above). Rather than add viewers, Trump foolishly appears to be driving them away.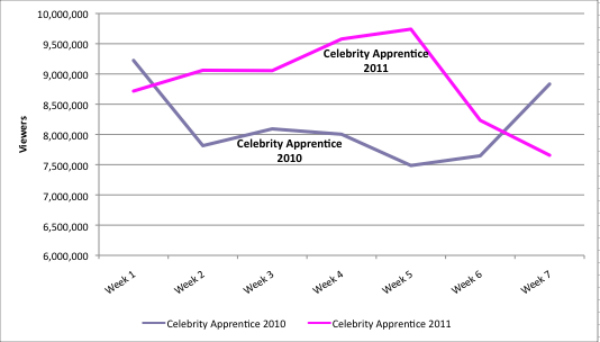 "I was surprised to find that the 'Celebrity Apprentice' was so liberal, because the audience for [another reality show] 'Survivor' is fairly Republican," said Will Feltus, the senior vice president for research at National Media, Inc. "It's a weird show because it's not a regular TV series. But based on MRI ratings, it is clearly a Democratic audience."
Gauging the effect of Trump's presidential run on his viewership is a fairly tricky science. There are actually two distinct "Apprentice" shows -- the ordinary "Apprentice" and "Celebrity Apprentice," which is the one currently airing Sunday nights on NBC. What's more, the neither "Apprentice" series runs for a full television season. According to media experts like Feltus, in order to properly measure Trump's effect on his audience it is necessary to do an apples-to-apples comparison -- that is, to measure the current season of "Celebrity Apprentice" against the most recent season of that same show, which aired last spring. (Last fall, NBC also aired a run of the ordinary "Apprentice.")
By that measure, Trump's ratings have clearly dropped. The fall-off has been especially pronounced over the last few weeks, a period that coincides with Trump's emphasis on Obama's birth certificate. "Something is definitely going on there," another media buyer told me. "He's dropped -- and that's a big fucking dip." Given the liberal skew of Trump's viewership, that dip might not be surprising.
Feltus agreed that Trump's ratings woes might stem from his sharp turn to the right, although he pointed out that this could be intentional. "Given the downward trend of Trump's ratings among his current, liberal audience, maybe he's running as a Republican to add a little bipartisan diversity to his viewership," he said.
And then he noted one other possibility. "For all we know," Feltus said, "Trump may have a new 'Celebrity Birth Certificate' pilot in development."