Trump Is 3 Times More Recognizable Than Any 2012 Candidate
The Donald unsurprisingly crushes his competition in visibility
Given that Donald Trump is a celebrity, it's patently obvious that he's more recognizable than most politicians, including the Republican Party's field of 2012 White House hopefuls.
But by how much? Evidently, about three times more than Mitt Romney, six and a half times more than Sarah Palin, and 13 times more than Mike Huckabee.
Here's what poll respondents told the Pew Research Center for the People & the Press, when asked which possible Republican presidential candidate they'd heard most about: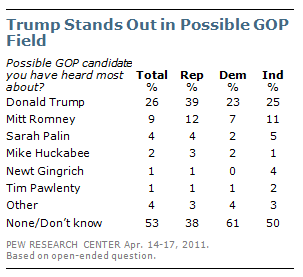 Of course, this isn't a flat comparison of recognizability. Respondents could only pick one answer. As more polls come out we'll see more information about Trump's name recognition, which is gleaned from open-ended questions about whether respondents have heard of someone.