Today's (Needless) Hysteria: The S&P Panic
I agree with Clive Crook's puzzlement about the S&P downgrade "bombshell" today:

"S&P adduces no new information that I can see. Competent ratings of opaque instruments such as, oh, mortgage-backed securities would be very useful to investors (not that ratings agencies troubled to provide competent ratings in that case, obviously). But why should anybody need that kind of help in judging the soundness of US government bonds? S&P knows nothing about them that you or I don't know."

And I like James K. Galbraith's derisive guffaw, as reported by Dave Lindorff:

>>At least one economist burst out laughing on hearing about the S&P announcement. "They did what?" exclaimed James Galbraith, a professor of economics at the University of Texas in Austin, who formerly served as executive director of the Congressional Joint Economic Committee. "This is remarkable! It certainly will confirm the suspicions of those who have questioned S&P's competence after its performance on the mortgage debacle."

S&P, as well as the other two big ratings firms, all notoriously failed completely to spot the looming disaster of the banking collapse and financial crisis, and famously issued A ratings to mortgage-backed securities that later proved to be virtually worthless paper...

As Galbraith explains it, "US debt consists of bonds issued in US dollars, which I assume the S&P analysts know. How can the US possibly default on its own currency? The obligation is in nominal dollars, which is to say when the bond retires, the US issues a check in dollars to cover it."

Since the US prints its own currency (or actually just issues electronic payments to create new money) whenever it needs it, as Galbraith puts it, "As long as there is diesel fuel to power up the back-up generators that run the government's computers, they will have the money to back their own bonds."<<
I know that markets run on fear, greed, instinct, and panic as much as on logic. But seriously, how could this non-story have dominated the news today? See if you can guess, from the NYT chart below, when the S&P announcement came out.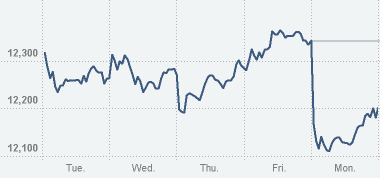 1) To repeat Clive Crook's point, S&P knows nothing more about U.S. budget prospects than you or I do. They're saying they have an opinion on the state of Congressional-White house dealings on the budget. Fine. Go on a talk show or start a blog.
2) To repeat James Galbraith's different but also true point, as long as the U.S. government doesn't tie itself up in debt-ceiling insanity, it is not going to default on dollar-based bonds. It can't. It controls the "means of production" for the dollars to pay off those bonds. If you're worried about inflation, fine. But that's a different matter, with a lot of other variables that count for more than S&P's feelings.
What I'd really like to know is who S&P likes in the Hornets-Lakers series, or this season of American Idol. Their views would carry just as much weight. Also I'd like to know why the news ecology treated this as such a big deal.