Statehouse Republicans Promote the Cowboy Code
Cowboy poets have been savaged in the media lately, as conservatives found it convenient, and hilarious, to attack federal funding for an annual National Cowboy Poetry Gathering held in Nevada and defended on the Senate floor by Majority Leader Harry Reid.
But as this has been going on, another, pro-cowboy political movement has sprung up in the West.
Since last year, three state legislatures have adopted the "Code of the West" as a common ethical code.
What is the "Code of the West," you ask? It's a recent thing, offered up by former Wall Street executive and self-styled cowboy James P. Owen in his 2005 book, "Cowboy Ethics: What Wall Street Can Learn from the Code of the West." Referenced in 1934 by Zane Grey in a cowboy adventure novel, "Code of the West," Owen has promoted the Code through his Center for Cowboy Ethics and Leadership, espousing the virtues of cowboy ethics in speaking engagements across the West.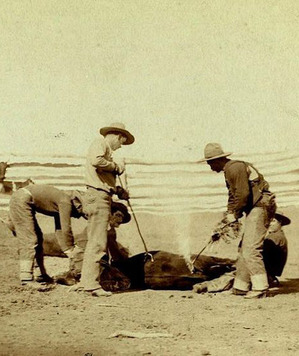 Owens's more recent codification involves 10 points. They are:
1. Live each day with courage

2. Take pride in your work

3. Always finish what you start

4. Do what has to be done

5. Be tough, but fair

6. When you make a promise, keep it

7. Ride for the brand

8. Talk less and say more

9. Remember that some things aren't for sale

10. Know where to draw the line
Wyoming was the first to adopt the tenets. In March of last year, Wyoming, known as "The Cowboy State," adopted the 10-point cowboy code at the suggestion of State Sen. Jim Anderson (R). "The thing that appeals about this to me was these are the things I was raised by," Anderson said at the time. Gov. Dave Freudenthal signed the maxims into law as the official state code -- something like an official tree, flower, or motto.
This year, Montana state Senate President Jim Peterson (R) tried to follow suit. His bill to officialize the Code of the West (Owens edition) as Montana's official state code failed, but he managed to pass a nonbinding resolution in February, under which the Montana state Senate approved the code as a nominal set of rules for the legislative chamber to live by.
Oregon's state House did the same thing last month. State Rep. Tim Freeman (R) won passage of House Concurrent Resolution 14, and Oregon's House now lives by the cowboy code. The resolution is currently under consideration in the Oregon state Senate Judiciary Committee.
One might well ask: Why? What sparked the interest?
There was no lobbying behind it, according to a spokeswoman for Montana's Peterson. The Senate president read Owens's book and "fell in love with the Code of the West," Jessica Sena, spokeswoman for Senate Republicans, told me.
"I just wanted folks to know that often legislators can disagree on any given piece of legislation, or any given subject, but that doesn't mean that they're not here for the right reasons," Oregon Rep. Freeman told me, citing traditionally low approval ratings for the state legislature.
The bills faced their share of opposition, mostly from those who see the celebration of cowboys as a denigration of Native Americans and a glossing over of history. Sena stressed that the Montana bill was "not a cowboy code. It's a Code of the West."
In Oregon, State Rep. Sara Gelser (D) had this to say about Freeman's bill, when asked by The Oregonian:
...a Democrat from Corvallis, [she] recognized that House resolutions are symbolic.

"So it doesn't really matter how you vote on them," she said. "But, with this bill, the symbolism matters absolutely."

Gelser noted that the bill refers to pioneers, ranchers, cowboys and peace officers.

"What about Native Americans?" she asked. "What about those who were here first?"

There were other times in Wild West history that Oregon shouldn't celebrate either, Gelser said.

"Confronted with the 15th Amendment, giving blacks the right to vote, both California and Oregon balked," she said. "What about that was tough but fair?" referring to No. 5 in the Code.
"There were a couple [lawmakers] I think just took it the wrong way, got caught up in the partisanship," Freeman said. "I think it was one of those situations where either people used it as a vehicle to voice another political concern, or they were frustrated about other stuff." Glaser wrote Freeman a letter apologizing for her harsh statements about the bill, Freeman said.
For whatever reason, the recent wave of cowboyism has a partisan bent, as these bills were proposed by Republicans.
There's not much of a link between these two moments in cowboy politics -- the Code of the West's rise in statehouses, and the national attack on cowboy poetry funding -- according to one central player in the latter dispute. Western Folklife Center Executive Director Charlie Seemann, whose organization hosts the annual National Cowboy Poetry Gathering in Elko, N.V., the (partly) federally-funded event that drew Republicans' ire during the FY2011 budget debate, said the Code of the West sounds like "noncontroversial and commonsense suggestions," but he questioned whether it has much to do with present-day cowboy life.
"I think it is important to talk about cowboy and ranching life and culture as it actually exists on the land today rather than to perpetuate romanticized stereotypes about a mythical cowboy or West that no longer exists or never did," Seemann wrote in an email.
But if you were discouraged about the status of cowboys, real or imagined, in American politics, fear not: Even if Cowboy poetry is under threat, the archetype of the herd-riding, tough-but-fair American cowboy is alive and well in the American West.
Image credit: Wikimedia Commons
Drop-down image credit: Wikimedia Commons