Should Civil Libertarians Care About Abortion?
Maybe. But I won't be including the issue in my freedom primary.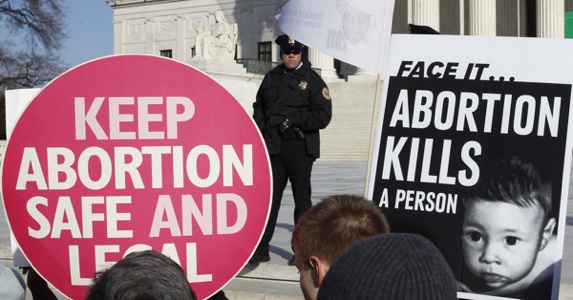 Earlier this week, when I
announced
I'd spend the run-up to Election 2012 focusing on the civil liberties bonifides of the candidates, I received e-mails from folks on both sides of the abortion debate. The pro-life correspondents thought civil libertarians ought care about the rights of unborn human beings as much as anyone. Pro-choice readers insisted that anti-abortion laws trample on the constitutional rights of women, and seek to deprive them of agency over their bodies.
The comments section reflected this conflict.
Said one reader: "Ron Paul is probably the most civil-liberty conscious candidate we will see in the 2012 election."
Replied another: "If you think that women's reproductive rights are a 'secondary consideration,' then your comment may have some validity. I think... civil liberties pertain to everyone regardless of their gender."
My position on abortion is an uncommon mix. As a purely constitutional matter, I don't think Roe vs Wade employs sound judicial reasoning, and it seems to me that our founding document, properly read, would leave the matter to the states. Personally, I'd endure a lot of suffering to avoid being complicit in an elective abortion (as opposed to one undergone to protect the health of the mother). But I am against laws banning abortion. Though I believe that human life starts very early in a pregnancy, I am not certain enough I'm right to send someone to jail based on what is, for me, a guess.
The determination I've made for the Civil Liberties Primary is as follows: a man wiser than me might have the wisdom to include abortion rights, or fetal rights. But it seems to me that earnest, intelligent people with deep principled attachments to safeguarding liberty can come down on both sides of this issue, or remain agnostic. Elevating the political stature of those kinds of people is a core purpose of this project. Thus it's going to remain agnostic on the question of abortion.
Image via Reuters/Jim Young