Poll: Only Romney, Huckabee Can Threaten Obama in 2012
President Obama has had a tough run of it lately, but most Republican presidential contenders still fail to offer a serious challenge, according to ABC's latest polling.
Right now, only Mitt Romney and Mike Huckabee come close in potential match-ups with the president. Coincidentally, they've also performed well in straight GOP primary polling, with Huckabee tying Trump at 19 atop the latest CNN poll and Romney trailing among the second tier with 11 percent.
ABC finds: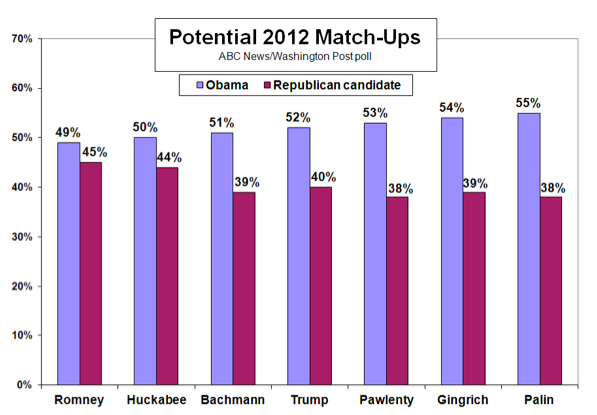 As explained by pollster Gary Langer, whose firm Langer Research conducts polling for ABC, Republicans aren't too thrilled with their 2012 options: Just 43 percent of Republicans and Republican-leaning independents said they're "satisfied" with the GOP 2012 field.
What does this tell us about the GOP field and 2012?
For one, it's not a terribly encouraging sign for Republicans, as their two brightest hopes have significant problems. Huckabee isn't generally considered to be a legitimate contender, since he's failed to raise significant money over the past few years. His political organization, Huck PAC, raised just under $1 million last year, a paltry sum compared to other possible 2012 aspirants. Mitt Romney has polled respectably, but, aside from his evolving stance on abortion, he'll face tough questions over his support for an individual mandate in Massachusetts' universal health care law, which he signed as the state's governor back in more moderate days.
It also tells us that, in terms of electability, there's not a whole lot of separation among the second tier of candidates. In the eyes of "likely voters," as pollsters call them, the 2012 race is still so undefined that Pawlenty, Gingrich, Bachmann, and Palin stand on mostly equal footing against Obama.
This will all change as the election gets rolling, but right now it looks like the GOP could struggle to nominate a competitive candidate.