Picture of the Day: Obama Surprises Kids From Colorado
After mentioning them in his budget speech Friday night, Obama greeted middle schoolers from Longmont when they visited at the White House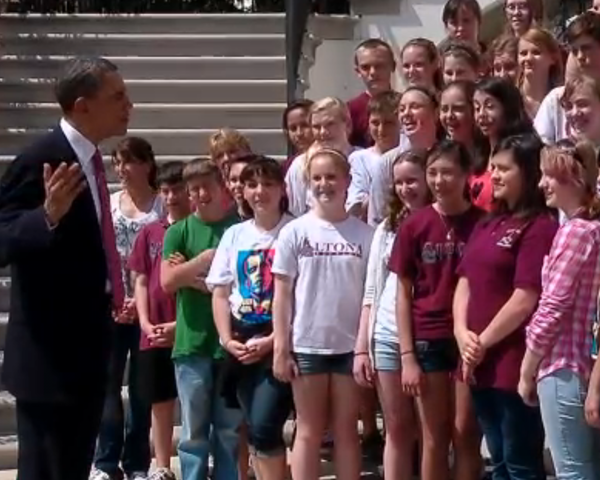 This picture of the day is actually from a video (you can click on it to view, at the White House Blog), of President Obama surprising school children from Longmont, Colo. during their visit to the White House -- the same students he mentioned in his speech about the budget deal on Friday.
When Obama appeared before TV cameras late Friday night to announce a deal to avoid a government shutdown, he mentioned receiving a letter about students from Longmont whose trip to Washington could have been disrupted if a deal hadn't been reached. From his remarks:
A few days ago, I received a letter from a mother in Longmont, Colorado.  Over the year, her son's eighth grade class saved up money and worked on projects so that next week they could take a class trip to Washington, D.C.  They even have an appointment to lay a wreath on the Tomb of the Unknown Soldier.

The mother wrote that for the last few days the kids in her son's class had been worried and upset that they might have to cancel their trip because of a shutdown.  She asked those of us in Washington to get past our petty grievances and make things right.  And she said, "Remember, the future of this country is not for us.  It's for our children."
When the eighth graders from Altona Middle School arrived at the White House for a tour, Obama surprised them with an in-person visit.
Via the White House Blog