Picture of the Day: Fred Karger Tries to Give S.C. GOP a Check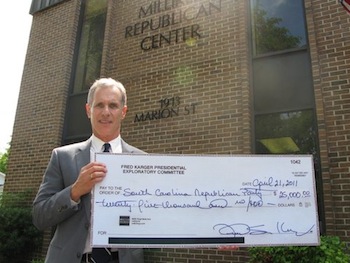 Former Republican strategist Fred Karger, the first openly gay major-party presidential primary candidate, poses with a giant blow-up check for $25,000 outside a South Carolina GOP office.
Karger is seeking a podium at the South Carolina GOP's televised May 5 presidential debate, co-hosted with Fox News, but he may have trouble getting in. One of the listed entry requirements is an average of at least one percent support in five national GOP 2012 primary polls; since major pollsters haven't included Karger's name in their surveys, he doesn't qualify.
Another requirement is that debators must file for candidacy in South Carolina, which they can do by paying a $25,000 candidacy filing fee to the state GOP. Karger says he met with a party official and offered to pay the South Carolina GOP $25,000 on the spot if it would waive or modify the polling requirement and let him into the debate. The party refused, according to Karger's campaign.