Picture of the Day: Benjamin Franklin's Daily Schedule
Much simpler than Obama's life, the founding father tried to follow this timetable between the hours of 5 a.m. and 4 p.m.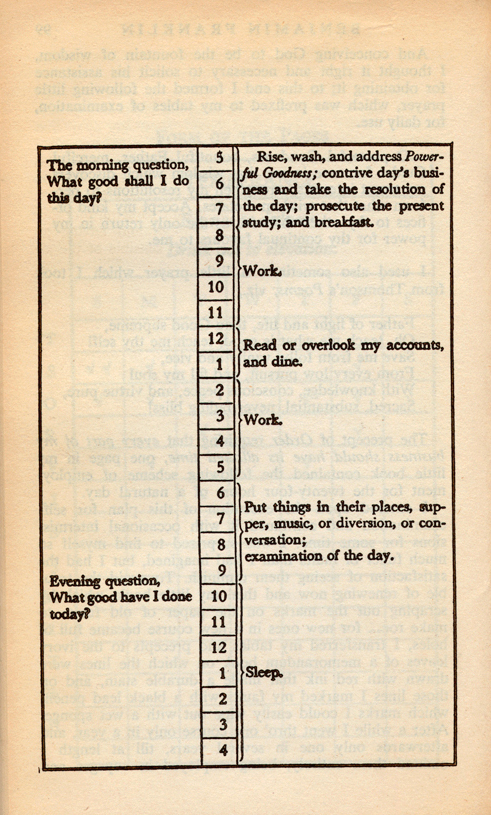 The daily schedule of the modern political figure, like the Obama schedule released regularly by the White House, involves things like meetings, phone calls, fundraisers, and town-hall events.
Ben Franklin's life was simpler. In his autobiography, which could be the most pretentious thing ever written in the history of humanity but which many revere as a classic, Franklin laid out how he attempted to live his days according to the schedule above.
"I enter'd upon the execution of this plan for self-examination, and continu'd it with occasional intermissions for some time. I was surpris'd to find myself so much fuller of faults than I had imagined ; but I had the satisfaction of seeing them diminish," Franklin wrote of the life-plan of which this timetable was a part.
But he didn't actually follow the schedule, deeming himself too important. "My scheme of ORDER gave me the most trouble ; and I found that, tho' it might be practicable where a man's business was such as to leave him the disposition of his time, that of a journeyman printer, for instance, it was not possible to be exactly observed by a master, who must mix with the world, and often receive people of business at their own hours," Franklin wrote.
So much for orderly living. To be fair, Obama's speaking engagements often begin late.