Picture of the Day: Baby Supports Kloppenburg in Wisconsin Judicial Election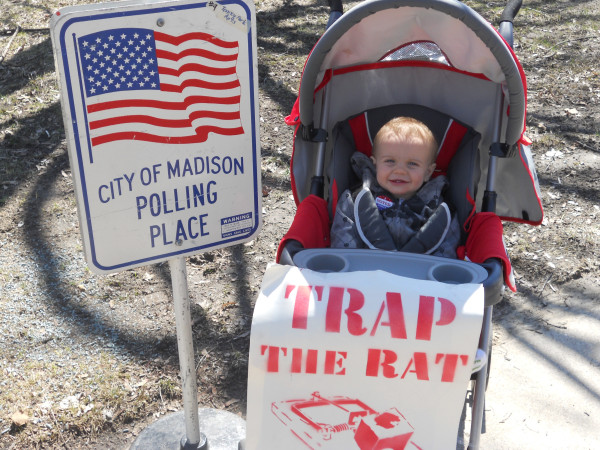 Wisconsin opened the next chapter in its labor-politics battle yesterday with a judicial election that could affect the fate of Gov. Scott Walker's (R) rollback of collective bargaining rights and tip the balance of power in the state. Passed and signed along with the state budget, the new bargaining law is now held up in a state court, and Wisconsin residents voted yesterday in a state Supreme Court race that's been cast as a referendum on Walker's labor policy. Outside groups poured millions into the state to influence the race's outcome.
Conservative state Supreme Court Justice David Prosser is seeking reelection, while Assistant state Attorney General JoAnne Kloppenburg, his challenger, is backed by unions. The race could shift the majority on Wisconsin's high court; votes were still being counted Wednesday morning.
Above, a baby employs the "rat" motif -- commonly used by labor organizers to denounce corporations, anti-union politicians, and scabs -- to illustrate his cherubic support for Kloppenburg outside a polling place.
via @nicknicemadison