Obama Once Opposed Debt Ceiling Hike
As a senator, President Obama voted against raising the limit. Since then, the White House has offered conflicting explanations.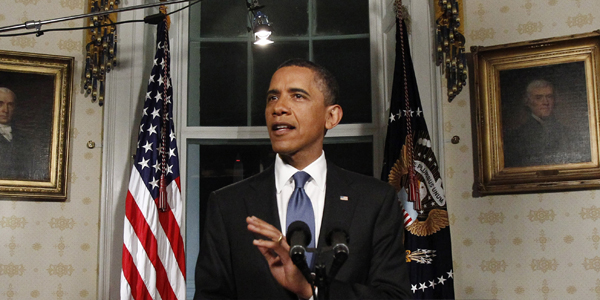 credit: Jim Young/Reuters
After averting a government shutdown, the White House is working hard to secure an increase in the debt ceiling, which will be required sometime before July 8.
The consequences of Congress failing to vote to raise the limit "would be Armageddon-like" for the economy, said White House press secretary Jay Carney in Monday's press briefing. Carney also said the White House would be happy to support a "clean bill" to raise the ceiling, setting up the possibility of a battle over policy riders like the one that plagued the 2011 budget negotiations.
Particularly troubling for the White House is then-Sen. Obama's vote against a debt ceiling increase in 2006. At the time, he said that raising the debt was "a sign of leadership failure." When the question was posed to former press secretary Robert Gibbs on January 5, Gibbs said Obama's vote was acceptable because it was symbolic, with no possibility of a default looming.
"I think what is important is -- understand that raising the debt limit was not in question in the outcome," Gibbs said at the time, arguing that Obama's vote was not needed on the issue, even though the total was 52-48. "I think, clearly, he was sending a message."
But the White House reversed itself. Instead of defending the first-term senator's vote as a reasonable protest vote against Bush administration policies, Obama aides are now disavowing it.
"He believes that vote was a mistake," said senior adviser David Plouffe in an appearance on Fox News Sunday this week. Carney reiterated the point early on in Monday's briefing: "The president, as David Plouffe said yesterday, regrets that vote and thinks it was a mistake. He realizes now that raising the debt ceiling is so important to the health of this economy that it is not a vote that even when you are protesting an administration's policies you can play around with."
The White House has taken to speaking about the upcoming vote as if it were the Cuban Missile Crisis. On Sunday, Plouffe urged legislators not to play "brinksmanship" with the "full faith and credit of the United States." On Monday, Carney said, "We cannot play chicken with the economy. It's just too darn risky."