New National Security Team Reflects Continuity
A big shuffle puts familiar faces in new national security roles
The familiar faces taking over the Pentagon, the war in Afghanistan, and the CIA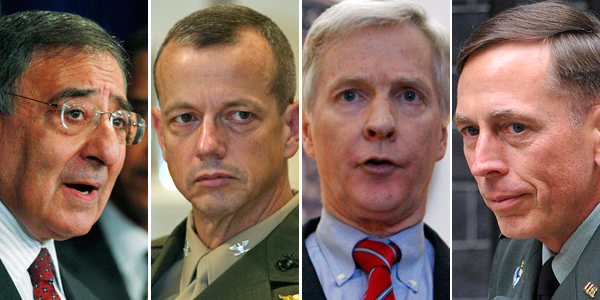 Don't call it a shake-up. It's more like a lay-up.
President Obama's decision to bring Gen. David Petraeus home from Afghanistan and place him at the CIA, move Leon Panetta a few miles east to the Pentagon, and put a familiar slate of faces -- Ambassador Ryan Crocker and Lt. Gen. John Allen -- in Afghanistan reflects continuity more than change.
President Obama plans to nominate CIA director Leon Panetta to head the Pentagon, senior Afghanistan Gen. David Petraeus to lead the CIA, Ryan Crocker as ambassador to Afghanistan, and Lt. Gen. John Allen to succeed Petraeus as commander of coalition forces in Afghanistan, officials tell National Journal.
---
MORE FROM NATIONAL JOURNAL:
Barbour: From Potential Candidate to Kingmaker?
Video: Redistricting Forces Incumbents to Face Off in Iowa
Boehner Signals Willingness to Look at Big Oil's Tax Breaks
It also responds to the vagaries of politics: All four men are popular with Congress, and though tough questions will be asked of each, they are probably going to be confirmed without incident. The current secretary of Defense, Robert Gates, considered among the most effective Cabinet officials in modern history, forced President Obama's hand by telling the White House he intended to step down as soon as the National Security Council completed a review of the nearly 10-year-old war in Afghanistan.
The administration had lobbied Gates to stay through the end of the summer, but he told the president last week he was ready to go. After an Oval Office discussion, both men agreed that July would be a natural transition point. As late as three weeks ago, Panetta had not been approached about replacing Gates, a person close to the CIA director said.
A White House official said that Sen. John McCain, R-Ariz., a key backer of Petraeus, had been privately lobbied to support the nominations. McCain had been traveling overseas, stopping most recently in Libya, the front of the administration's third military conflict. The White House decided to wait until he returned to announce the personnel changes.
The decision to send Crocker and Allen to Kabul is the Obama administration's most significant move in months to shuffle the ranks of its Afghan war team.
Crocker is one of the nation's most respected diplomats. During 37 years in the Foreign Service, Crocker served in hot spots ranging from Lebanon to Pakistan and forged tight relationships with an array of senior U.S. military officers. In Baghdad, he developed close ties with Iraqi Prime Minister Nouri al-Maliki and is credited with curbing the Iraqi leader's sectarian impulses and successfully prodding him to crack down on the country's Iranian-backed Shia militias. Crocker, who retired in 2009 to become dean of the George Bush School of Government and Public Service at Texas A&M University, was no stranger to Iraq: He met his wife during his first stint in Baghdad in 1979.
Still, Afghanistan poses a different and more complex set of challenges. As he did in Iraq, Crocker will assume the helm of one of the largest American embassies in the world. But unlike in Iraq, Crocker will go to Kabul when diplomatic relations between the United States and Afghanistan are at an all-time low. Karzai routinely accuses U.S. forces of carelessly killing Afghan civilians and inadvertently fueling his country's corruption by pumping aid money into Afghanistan with little oversight. Many U.S. officials, for their part, see Karzai as corrupt, feckless, and unappreciative of the thousands of coalition troops who have died in support of his government.  When he leaves for Kabul, Crocker will inherit the difficult job of managing both Karzai and the often unwieldy State Department-led effort to improve the capabilities of the Afghan central, provincial, and local governments. There is probably no diplomat better equipped for those difficult missions than Crocker, a man Petraeus used to fondly describe as his "diplomatic wingman." Whether he can pull them off in a country as broken as Afghanistan, however, remains to be seen.
Petraeus has presided over large spans of two transformational wars, and helped to usher in a revolution in military intelligence. Panetta has helped rebuild morale at the CIA, bolster the size and scope of its National Clandestine Service, expand its language training, and improve its frayed relationships with Congress.
Drop-down image credit: Reuters