Kloppenburg Declares Win in Wisconsin 'Referendum' Race
An obscure local run-off became a nationally-watched plebiscite on Wisconsin Gov. Scott Walker's anti-collective bargaining bill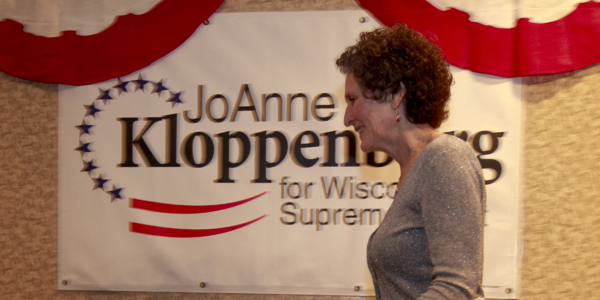 What should have been an obscure regional judicial run-off election Tuesday turned into a dramatic referendum on Republican Wisconsin Gov. Scott Walker and his controversial law banning collective bargaining for public employees, and as the final votes were tallied in the close race Wednesday afternoon it became clear: Walker lost.
With 100 percent of the votes counted, Democrat-backed challenger JoAnne Kloppenburg declared victory over GOP-supported state Supreme Court Justice David Prosser, the incumbent. She held a razor-thin 204 vote lead out of nearly 1.5 million ballots cast.
"JoAnne didn't have a prayer before the Budget Repair bill," Democratic Wisconsin state Senate Minority Leader Mark Miller said on a conference call Wednesday afternoon, "now she's a harbinger of success."
Indeed, the results of February's first round of voting for the judicial seat yielded 55 percent for Prossner and only 25 percent for Kloppenburg (in Wisconsin, the top two candidates in such races go to an automatic run-off vote). That means over the course of just six weeks Kloppenburg doubled her support across the state, while Republicans lost significant ground.
There's likely to be a recount, but to Democrats the salient fact is that Prosser was considered a slam-dunk favorite until Republican polling numbers statewide began to plummet in the wake of Walker's push to strip public unions of their bargaining rights. And even if Kloppenburg loses a recount, Republicans could still have their backs against the wall as the day to file recall petitions for state senators grows nearer. Of the eight Republican-controlled state senate where Democrats have been circulating recall petitions as payback for the GOP senators backing the Walker bill, three went to Kloppenburg. (Eight Democratic state senators also face recall petitions.)
To add insult to injury, the seat of the Milwaukee County Executive, held by Walker himself before he vacated it to take the governor's chair, fell to a novice Democratic candidate Tuesday night by a walloping 61-39 percent margin. The seat is traditionally Democratic, but Walker won it in 2002 with a 55 percent vote majority.
The Democratic momentum that pulsated through Tuesday's election also bodes ill for Walker's job security. To trigger a gubernatorial special election, organizers would need to collect 541,000 signatures in support of recalling Walker. On Tuesday, 738,000 votes were cast for the Democrat-backed Kloppenburg.
Turnout from Tuesday's election was three times higher than state officials anticipated and three million dollars from out of state were poured into these two tiny regional elections (Dane County Executive, Wisconsin Supreme Court), reflecting the national passions Walker's efforts have stirred.
Tuesday's vote also has significant implications for the 2012 presidential election. Wisconsin is a leading swing state and has been won by very small margins on and off by the competing parties. It's difficult for a presidential candidate to capture the necessary electoral votes to win office without Wisconsin in his column. If sustained, the Democratic energy on display Tuesday could signal a coming political bonanza for President Obama next year in his re-election quest.
Image credit: AP/Andy Manis