Donald Trump and Our Piratical President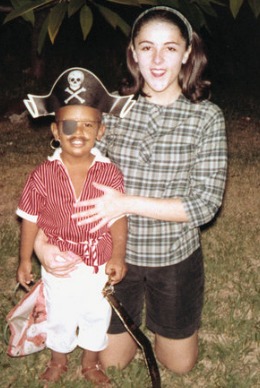 Jonathan Chait
over at
The New Republic
thinks he has discovered the "real" Obama scandal--that the president, far from being a Kenyan-born, anti-colonialist whatever, is in fact a rapacious, anti-capitalist pirate, as evidenced by the recently surfaced photo over there on the right. This unassailable evidence of the president's piratical upbringing is clear proof, Chait argues, that from a very early age Obama "viewed commerce as something to be pillaged and looted. He views wealth in completely zero-sum terms, as something that can be accumulated only through force. No wonder he hates capitalism."
Chait probably doesn't realize this, but there is one man prepared to rescue us from this menace. And it is our great good fortune as a nation that he just happens to be seeking the Republican presidential nomination. (Or at least he's been making an awful lot of noise about seeking it.) Before any liberals launch their scurrilous attacks on this person, let me make it clear to all that he laid out a strong position against piracy, in considerable detail, way back in February. In other words, long before this Obama photo came to light. In fact, he remains to this day the only Republican presidential candidate that I am aware of who has even bothered to lay out his policy on piracy--and just we're clear, that policy was quite hawkish. You could even call it swashbuckling.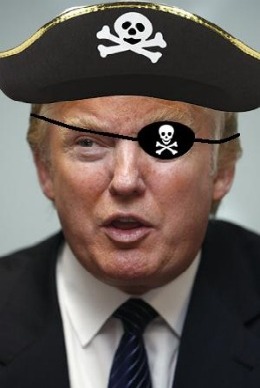 Who is this brave seer?
Why it is none other than Donald Trump, of course. Back in February, when few people realized that he had political aspirations or were even really paying much attention to him, Trump gave a speech at the Conservative Political Action Committee in Washington, D.C. Bizarrely--or so I thought at the time--he went into considerable detail about the menace of Somali pirates and how, if he were president, he would blast them out of the water. (In fact, pirates were about the only subject on which he went into any detail.)
At the time, I mentioned this in a column I wrote about Trump, although I have to confess that I missed the significance of what I had just witnessed. I had thought that Trump was being a silly loon. But obviously, he's just prescient.
Trump pirate image credit: Reuters, pirate hat and eye patch added by The Atlantic