Tuesday's Washington memorial service for David Broder carried an unmistakable
fin de siècle
feel. It wasn't just the location (a National Press Club that is no longer at the center of the city's journalistic life) or the graying tint of the audience, or even the lovingly preserved manual Royal typewriter on display (along with Broder's Rolodex, notebooks and a folded flag) beside the podium.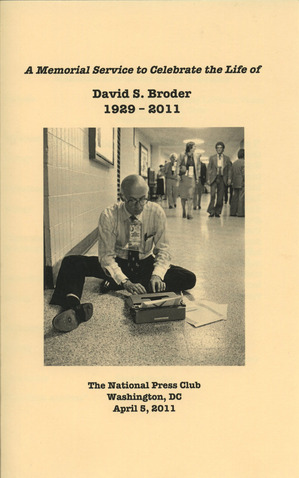 The real sense of loss revolved around the values that Broder prized: the belief that reporting -- not commenting or opining -- represented the highest journalistic calling. The tone for the ceremony was set at the outset by his son, George Broder, whose first words when he arrived at the microphone encapsulated his father's highest aspiration: "David S. Broder was a reporter."

In an elegant remembrance, Broder's Washington Post colleague Dan Balz accurately placed him in the company of a generation of Boys on the Bus -- Jules Witcover and Jack Germond, the late R.W. Apple and Robert Novak. They shared his conviction that there was no substitute for getting out from behind the desk and talking to the people -- the operatives, the strategists, the candidates and above all the voters -- on the front line of political change.
That generation, like all that came before and after, had its biases and blind spots. But it believed that reporters should spend more time listening than talking -- and that they could learn not only from the great but the humble.
The audience at Broder's memorial -- Vice President Biden, former Defense Secretary Donald Rumsfeld, Ben Bradlee and Donald Graham, White House Chief of Staff Bill Daley sitting quietly alone in a back row -- testified to his decades of access to Washington's elite. But all of that exposure never shook Broder's belief that politics, like America, was best understood from the bottom up.
In a media world that increasingly prizes opinion and edge over reporting and balance, Broder's values seem simultaneously as distant, and as precious, as that old Royal typewriter.
Ron Brownstein can be reached at rbrownstein@nationaljournal.com.