Comparing 24-Hour News Organizations
U.S. foreign policy affects countries around the world, but American citizens are relatively uninterested in faraway events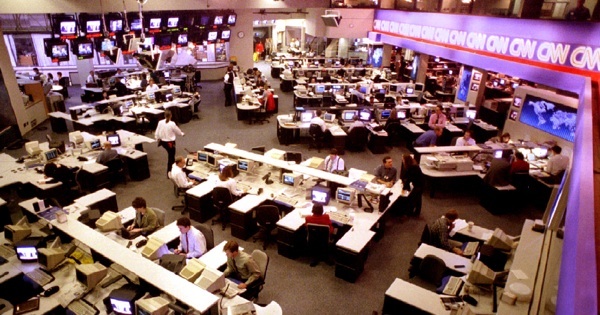 The U.S. is waging war in Iraq, Afghanistan, Pakistan and Libya. As the Justice Department reminds us, "The DEA is an agency with global reach, with 86 offices in 62 countries." If Americans felt an appropriate degree of responsibility for the actions of its government, its citizens would be consuming world news at an unrivaled pace. Human nature being what it is, however, folks whose daily lives are mostly unaffected by the actions of other countries remain relatively ignorant of world affairs. In contrast, residents of less powerful countries have a much bigger appetite for news.
It's the websites of CNN, Fox News, MSNBC and Al Jazeera that reminded me of this dynamic. It happens that the four broadcast news organizations all put feature stories on their websites that occupy similar places in their layouts.
Shall we compare?
Here's CNN:
Next let's look at Fox News: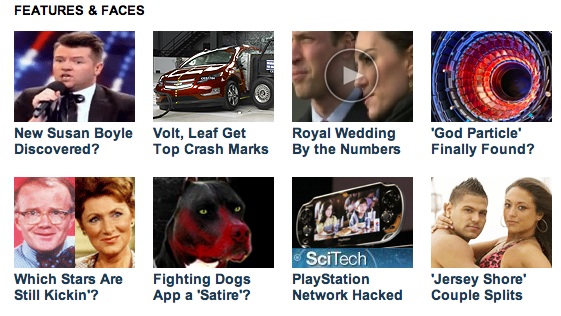 They stretched their features across the screen horizontally, so there's one more Fox News image: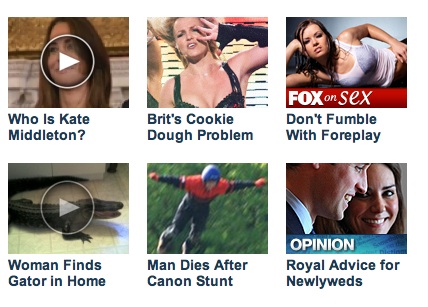 (For those of you who can't resist clicking through to "Fox On Sex," I won't ruin
your fun
.)
On to MSNBC: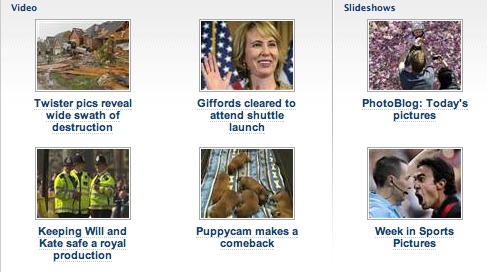 And finally, Al Jazeera part one: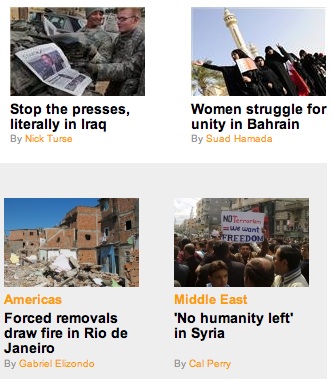 And part two: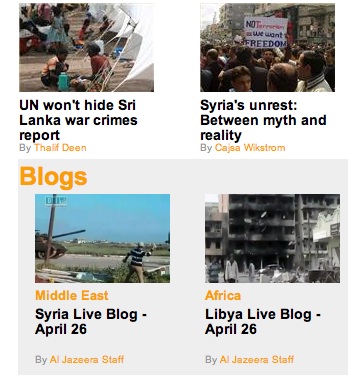 This strikes me as one more reason why it's prudent to have a presumption against interfering in the affairs of other countries -- we're a nation ultimately governed "by the people," and collectively, we've precious little interest in what's going on far from our borders.
Image credit: John Kuntz/Reuters