Cause for Optimism After Late-Night Meeting
President Obama, John Boehner, and Harry Reid failed to reach a deal, but a government shutdown may yet be avoided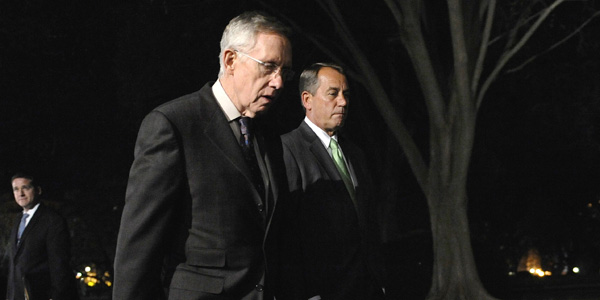 House Speaker John Boehner and Senate Majority Leader Harry Reid, after meeting with President Obama at the White House Wednesday night. credit: Jonathan Ernst/Reuters
At least now the grown ups are in the same room and talking.
Congressional leaders again failed to reach a final compromise with the Obama administration on a long-term funding plan for the federal government despite a lengthy late-Wednesday huddle at the White House.
The president has staked considerable political capital on the outcome of the talks, taking ownership of the negotiations by insisting that he will keep inviting the principals, House Speaker John Boehner, R-Ohio, and Senate Majority Leader Harry Reid, D-Nev., to the White House to make sure that an agreement is reached.

However, President Obama suggested after the meeting that the areas of disagreement have been "clarified" and "narrowed," and that staffers were expected to work through the night in hopes of reaching a final deal as early as Thursday morning. "I remain confident that if we're serious about getting something done we should be able to reach a deal, get it passed, and avert a shutdown," Obama told reporters.
The federal government is on track to shut down Friday at midnight unless an agreement on either a short- or long-term plan can be reached before then.
In a separate news conference Wednesday evening at the White House, Reid and Boehner echoed Obama's assertion that progress was being made. The two leaders are expected to meet again Thursday morning for a pulse-check on the negotiations. The speaker stressed that there is still no agreement on a final number for spending cuts, or on a number of controversial policies attached to the CR. "I have confidence we can get this done," Reid said.
With a long-term deal remaining out of reach, House Republicans moved forward with plans for a third short-term continuing resolution that would fund the government for one week while extracting $12 billion in cuts and fully funding the Pentagon for the remainder of the fiscal year.
However, Democrats have rejected this proposal as unserious. On the Senate floor Wednesday evening, Reid said Republicans were unwilling to compromise in order to appease their right flank. "We've been more than reasonable and more than fair. We meet them halfway, and they say no. We meet them more than halfway, and they still say no," Reid said.
Despite the verbal darts launched from both ends of the Capitol, there are signs that progress is being made. Boehner said as much on Thursday but noted that even if a deal is reached soon, it would still take several days to pull it together, which means another short-term CR will be necessary no matter what unfolds over the next two days.
A Democratic aide briefed on talks said the sides are "very, very close on numbers," and will likely be able to agree on a target number, under which specific program cuts will be negotiated. Democrats said that figure will not be more than $35 billion, marking a small concession by Democrats who previously tried to set the bar at $33 billion in cuts from current spending levels.
Democrats say that the main sticking point now is Republican insistence on inclusion of policy riders, such as a bar on funding of EPA's authority to regulate greenhouse gases. The Democratic aide said Reid will not agree to anything but largely symbolic policy riders, and that Boehner will have to decide if he is willing to allow a shutdown over the issue.
"Staff will work through the night to negotiate riders and the budget," a Reid spokesman said. "Reid and Obama will talk again in the morning for updates and to determine if we need another meeting."
House aides said on Wednesday that Republicans are still seeking deeper cuts than the $33 billion on the table because it falls too short of the $61 billion in cuts passed in the original House-passed CR. If the White House and Senate Democrats could sign off on a higher figure--ideally in the ballpark of $40 billion--then Republicans would be more willing to soften their position on a number of controversial policy riders involving funding for the president's health care bill, the Environmental Protection Agency, and Planned Parenthood.
While Republicans maintained a tough rhetorical stance on the funding fight, there are growing concerns that a federal shut down could cause the party significant political harm. While recent polling suggests Americans would place blame on both parties in the event of a shut down, Republicans on Capitol Hill are not confident that attitude will hold against a president with a larger bully pulpit and a message that he was willing to meet them half way.
The White House has also sought to expand the argument outside the Beltway, highlighting that a shutdown could affect not only U.S. troops but also taxpayers waiting for refunds from the Internal Revenue Service--an agency that would be shuttered during a shutdown at the height of tax season.
"A government shut down has real consequences for real people," Obama said.
Obama has more aggressively engaged in the negotiations this week, underscoring the White House's own sense of urgency to head off a shutdown. As parallels to the 1995-96 shutdown fights between the Clinton administration and a Republican Congress are drawn, there are also significant differences in the atmospherics. Specifically that the economy is still in stages of recovery and a shutdown could impede progress, and that the United States is engaged in two ongoing wars abroad as well as continued intervention in Libya.
Voters are more interested in seeing government work, particularly among swing independent voters who are expected to play a decisive role next year in Obama's reelection campaign and congressional races.
Dan Friedman contributed.
Drop-down bar thumbnail credit: Jonathan Ernst/Reuters