Some, but Not Many, Tea Partiers Rally on Capitol Hill
John Boehner may not have much to fear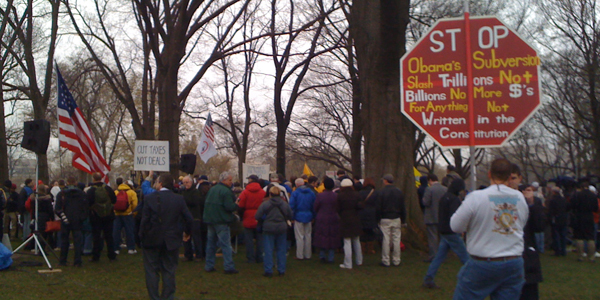 The nation's largest tea party membership group planned a rally on Capitol Hill today, with the goal of pressuring John Boehner and congressional Republicans not to back down in spending negotiations.
Probably due in part to bad weather (temperatures around 40, some misting rain at times), not very many people showed up.
Perhaps a couple hundred tea partiers gathered at the Robert Taft memorial near the U.S. Capitol, called there last week by Tea Party Patriots, to hear speeches from the influential conservatives in Congress: Rep. Michele Bachmann (R-Minn.), Rep. Mike Pence (R-Ind), and Sen. Rand Paul (R-Ky.), among others.
At the rally, compromise on 2011 spending levels seemed possible.
"I think Republicans need to dig in," Pence, who voted against the last stopgap funding bill, told me as he left the rally. "I think H.R. 1 [the GOP-passed spending plan, rejected by Senate Democrats] is the deal." But he did not, when asked whether a compromise was possible, say the word "no" definitively.
With 54 fiscally conservative House Republicans voting three weeks ago against another stopgap funding measure, the tea-party pressure has already been felt.
Despite the low attendance today, two things have already been established: 1) tea partiers want to cut as much spending as they can, and 2) congressional Republicans are wary of drawing the movement's ire. Cameos by top conservative lawmakers reminded one of how influential Tea Party Patriots, and the movement as a whole, still is.
April's tax-day weekend will provide the latest benchmark for how well the tea party movement has sustained itself since forming in early 2009. With rallies being held across the country between Friday, April 15 and Monday, April 18, we'll get a sense of how enthusiastic its members still are.
"We're kind of saturated right now," one Arlington man told me at the rally today. "Really."
With local groups constantly e-mailing members, asking them to attend tea party events, it can be tough to focus the movement's energy all in once place.
Especially on a rainy Thursday.