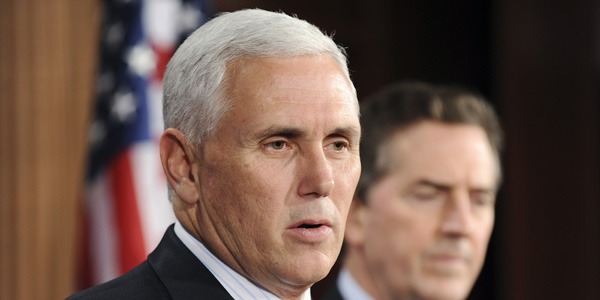 Rep. Mike Pence (R-Ind.). credit: Jonathan Ernst/Reuters
House Republicans have been winning the dollar debate but are dissatisfied with piecemeal victories. Senate Democrats have been retreating in billion-dollar increments and now want to battle over the big picture. The collision and a spring federal government shutdown--possibly lasting weeks--appear more likely than ever.
House passage of a three-week continuing resolution marked another dollar victory for the House GOP. The $6 billion in cuts, certain to pass the Senate and win President Obama's signature, reflect the prorated amount of $100 billion in discretionary cuts from Obama's fiscal 2011 budget proposal the House GOP originally sent the Senate. When you add that $6 billion to the $4 billion in spending cuts already on the books, House Republicans will soon be able to boast of $10 billion cut from 2010 spending levels--besting the net $9.1 billion the Gingrich-era House Republican majority cut in 1995.

---
MORE FROM NATIONAL JOURNAL:
Virginia Is the Next Ohio
Democrats Pushing Kaine Replacements
Three Mile Island's Neighbors on Nuclear Power
---
="">
But those dollar victories are, according to numerous House Republicans, just postponing the inevitable confrontation with the White House and Senate Democrats over defunding Obama's health care reform, environmental policies, and new financial-regulation bureaucracies.
Rep. Rob Woodall, R-Ga., said he has only begun the fight to defund health care and attack funding for the White House's environmental agenda. "If you think I am done, you are mistaken," Woodall said. Rep. Mike Pence, R-Ind., again declared now was the time "to pick a fight" as even  House Appropriations Committee Chairman Harold Rogers, R-Ky., lamented that short-term spending bills constituted a "terrible way to do business."
"This should be the last CR," Rogers told the House, but blamed Senate Democrats for failing to pass an alternative-funding bill that comes close to GOP budget demands. "We're sitting here by ourselves," Rogers said. "I don't know what we do."
Rep. Tom Cole, R-Okla., warned a shutdown could "cause panic" in the financial markets and would "not be a wise thing to do." Cole has the ear of House GOP leaders, who are struggling to persuade restive rank-and-file Republicans to focus on gains made in cutting spending and the fundamental shift already achieved in turning the debate from whether to cut spending to how much should be cut. That argument has prevailed so far, but warning signs are mounting that back-benchers won't be satisfied with just the new normal.
House Minority Whip Steny Hoyer, D-Md., blamed the looming impasse on intransigent House conservatives. "This is a lousy way to run a railroad. What is your alternative to make a deal? What we don't know is what you can pass. You don't know what you can pass. Your caucus is deeply divided."
Rep. Mike Simpson, R-Idaho, said Republicans can and will pass the full amount of cuts originally sought, which is now $51 billion from current, fiscal 2010 spending levels the government is operating on. "We can pass that," Simpson said, referring to the tattered budget process inherited from the last Congress as "a pile of crap."
Democrats did not pass a single spending bill last year, forcing a series of stopgap spending bills that have funded the government since the fiscal year began on October 1. The House-passed measure funds the government until April 8.
House conservatives are also tired of cutting spending from earmarks and Obama's list of program terminations--they want cuts on GOP terms and the policy riders that come with them--defunding Planned Parenthood and the Corporation for Public Broadcasting. Fifty-four House Republicans voted against the CR today for these reasons. Only six Republicans opposed the previous CR.
Across the Capitol, Senate Democrats see the rising GOP hostility to government-by-CR and, for the first time, see an opportunity to strike back.
Senate Majority Leader Harry Reid, D-Nev., and top lieutenant Sen. Chuck Schumer, D-N.Y., have one thing in common with House Republicans--they want an elevated fight over bigger numbers and bigger issues.
"Speaker Boehner wouldn't have been able to pass this short-term measure without Democratic votes, and he won't be able to pass a long-term one without Democratic votes either," Schumer said. "It's time for him to abandon the tea party, and forge a bipartisan compromise."
While House Republicans wonder if they are losing momentum, Reid and Schumer know they haven't had and won't find any as long as mini-CRs continue to bleed discretionary accounts but fail to rouse even a flicker of organized, poll-swaying opposition.
Both sides, in other words, are now spoiling for a fight. The calisthenics are over.
This article appeared in the Wednesday, March 16, 2011 edition of National Journal Daily.
Drop-down thumbnail credit: Jonathan Ernst/Reuters