Sheriff Joe Arpaio, Sharron Angle, Joe the Plumber, Joe Miller Unite for Anti-Obama Event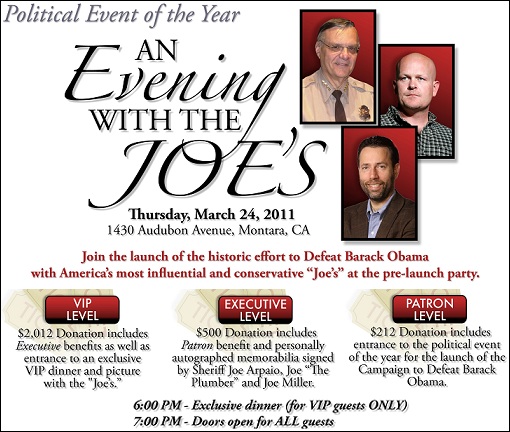 Updated 2:10 p.m. -- Call it the ultimate in 16th minute events -- an anti-Obama fundraiser headlined by a group of GOP candidates who lost last cycle and men known for their political antics.

The Campaign to Defeat Barack Obama is hosting a fundraiser in Montara, Calif., Thursday evening featuring appearances by Arizona Sheriff Joe Arpaio, failed Nevada senate candidate Sharron Angle, Obama critic Joe the Plumber, failed Alaska senate candidate Joe Miller and others.

Billed as an "Evening With the Joes," the goal of the event is to raise $35,000, with donors being asked to contribute from $212 to $2,012 (get it?) to attend the event.

The Campaign to Defeat Barack Obama is a Sacramento-based project of the Our Country Deserves Better PAC, the same group that runs the better-known Tea Party Express.

"The Tea Party Express lives on and we'll work in parallel," said Campaign to Defeat Barack Obama vice president Ryan Gill, explaining the connection between the groups. The Express will continue its work -- tours, hosting a debate the CNN and so on -- while the newer group represents "a team of us dedicated to defeat Obama work" and the 2012 election.

The new project's vice chairman, Lloyd Marcus, is author of "The American Tea Party Anthem" and other conservative songs, and the newer group shares with the Express a tea party politics.

Can YouTubes of tonight's event be far behind?