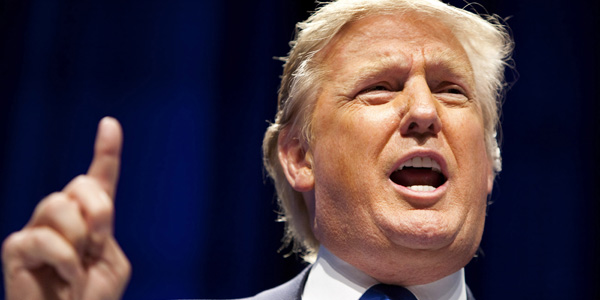 credit: Joshua Roberts/Reuters
Donald Trump is not a serious candidate for president. Sarah Palin and Mike Huckabee are showing more interest in selling books than in building the policy chops required to be commander in chief. And yet their every move is documented by a media hungry for web clicks, an obsession ratified by a public more interested in the side show than in any sort of rational debate about the future of the country.
What does it say about American culture that running for president has become good for business, and good for selling books? At the very least, the practice is now de rigueur.
"It has become standard operating procedure for presidential candidates to write their own book in an effort to promote a positive narrative.... However, political figures who simply flirt with a presidential run as a way to promote their own books has also, sadly, become commonplace in America," said Mike Dennehy, a Republican strategist who ran the 2008 New Hampshire primary campaign for Sen. John McCain, R-Ariz.

---
MORE FROM NATIONAL JOURNAL:
Google's Tarnished Chrome
Union Protesters and Tea Party Share Traits
Signs of Trouble in Gingrich's Bumpy Start
---
="">
"If a political figure wants to write a book, then they should do it and promote it with traditional marketing techniques. But using the bait and switch, presidential campaign approach is a method that preys on voters' feelings and attitudes and is inappropriate," Dennehy added.
Any chatter from Trump, Palin or Huckabee would hardly merit an item in any news outlet except for one factor: Americans are hungry to read about them. Palin's book tour inspired people to line up overnight outside stores where she appeared. Huckabee's Fox News show gets hundreds of thousands of viewers. Trump's reality program gets millions. And the Web traffic news organizations receive when they write about any of the three spikes.
Those same spikes don't occur for the serious candidates. Former Massachusetts Gov. Mitt Romney made his first real campaign swing through New Hampshire last week and addressed serious concerns over his health care plan.
Romney has spent time building an organization and refining his policy positions as he prepares for a second try at office. Former Minnesota Gov. Tim Pawlenty has diligently courted activists by playing up his record as a fiscal hawk.
Indiana Gov. Mitch Daniels, Mississippi Gov. Haley Barbour, Ambassador Jon Huntsman and even former Sen. Rick Santorum, R-Pa., all have long records of accomplishments, along with relationships with key elements of the Republican base they can exploit as they pursue a bid.
Even former House Speaker Newt Gingrich, R-Ga., who has undeniably used flirtations with a White House run in the past to sell books, looks like a serious contender this time around.
Trump, the billionaire real estate and casino magnate, is the most extreme example. He promises a "surprise" when he makes his presidential decision in a few months, but his most aggressive moves toward a campaign have not included actually leaving New York.
The media bit when a senior Trump adviser was dispatched to Des Moines, ferried in a jet emblazoned with "Trump" on the fuselage (Iowans would be forgiven for yawning if a "senior adviser" for any serious candidate came to the Hawkeye State. They want to see the candidate themselves). Trump himself sat for an interview with WMUR television in New Hampshire, which he conducted from New York.
The odds of a New York mogul with no experience in governing, or politics, for that matter, making it through a Republican primary are so slim as to be nonexistent.
Consider former New York Mayor Rudy Giuliani, who had a serious record in turning around a crime-riddled city and became a hero in the wake of September 11. Giuliani spent upward of $50 million on his 2008 presidential bid and won a single convention delegate before dropping out.
Palin isn't showing a lot more interest in the serious business of seeking to lead the nation. Her reality show led most GOP strategists to roll their eyes. Her book sales skyrocketed, but those books show few concrete policy ideas except a lock-step opposition to the incumbent president.
Karl Rove, for one, has taken on the unpopular--to tea party groups at least--role of Palin-denier.
He has repeatedly questioned her decision-making, especially "Sarah Palin's Alaska."
"Holy crap! That fish hit my thigh! It hurts!'" said Rove, in a mocking Palin tone, recalling an infamous scene on a fishing boat to New York Magazine's Joe Hagan. "How does that make us comfortable seeing her in the Oval Office?"
Huckabee has shown the most interest in being included in the presidential conversation, coupled with the least interest in actually doing the work required to mount a campaign. He has complained about not being included in press coverage of the 2012 race, and he does, indeed, have a better standing in the polls than almost any other candidate. But there is ample evidence he isn't really preparing to run. Huckabee is building a new home in Florida that will cost a reported $3 million, for which he will need the cash his Fox News program brings, and he's planning to host a cruise to Alaska in June, an investment of time that doesn't seem to square with the demands of a 2012 campaign.
Huckabee's most recent trip to Iowa demonstrated the lack of attention to which he is giving a potential campaign. Des Moines Register political reporter Tom Beaumont saw "few signs he is actively investigating a 2012 campaign" during the trip, which came amid a national book tour.
In their search for book bucks or television ratings, Trump, Palin and Huckabee are taking advantage of our celebrity-obsessed politics. They are doing so to the detriment of candidates who show a deeper level of commitment to their own campaigns--and to the long and arduous road to the White House.
This article appeared in the Thursday, March 10, 2011 edition of National Journal Daily.